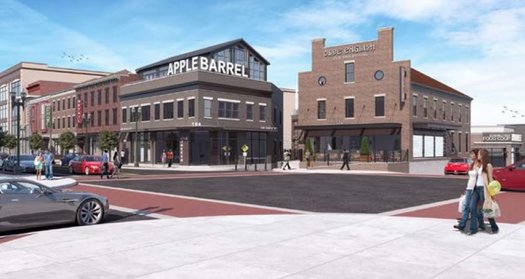 By Haley Viccaro
One of the interesting -- and potentially transformative -- Capital Region projects to get state money during the recent Regional Economic Development Council awards is The Mill Artisan District. The project aims to renovate a three-block area in downtown Schenectady into space for craft beverage producers, artists, retail, and residential.
Here are a few more bits about the project, along with some of the potential tenants...
Who's behind the project
Re4orm Architecture of Schenectady was awarded $2.325 million in the REDC process to renovate seven buildings on lower State Street as part of a $14.1 million development. Re4orm plans to be the developer of the project and pick up the rest of the cost, with a probable grant from the Schenectady County Metroplex Development Authority in the future, according to Metroplex chairman Ray Gillen.
Re4orm developed Firestone 151 on Lafayette Street and its own building on Clinton Street. It's also the architect on the Mohawk Harbor project with developer Galesi Group. JT Pollard of Re4orm Architecture did not return calls for comment.
"He wanted to start doing more work on the development side," Gillen said of Pollard.
Which companies are potentially involved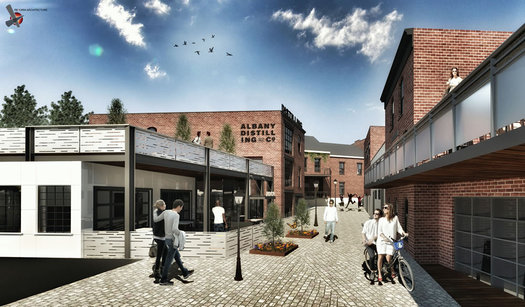 An early draft rendering of what Mill Lane could like as part of the project. Albany Distilling has not signed as a tenant, and says it's too early to say whether it will.
"We have strong interest in this project," Gillen said this week, adding that Re4orm already has some signed memoranda of understanding from potential tenants.
Several producers in the Capital Region have been in discussions with Re4orm about possibly leasing space in the project, but there are no definite tenants at this point:
+ Albany Distilling Co. is considering moving into space there.
+ Death Wish Coffee was part of the conversations but recently pulled out of the project.
+ Matt Baumgartner said he was considering leasing space, but has not been in discussions with Re4orm.
+ A local brewer has also expressed interest.
Rick Sicari, co-owner of Albany Distilling Co., said it's too early to say for sure if they would be involved but that they are looking to expand in Schenectady.
"We talked about it more on if a distillery would fit there and how it would all work," he said. "We're focusing on production. At this point that is our main goal. The Death Wish partnership changed our gears."
Sicari was planning to partner with Death Wish on another project in Schenectady at 10-12 Yates St. But Sicari said that fell through because it didn't end up working out with the landlord.
Albany Distilling had been looking to open a gin and vodka distillery, along with a restaurant and retail operation, at the Yates Street building. ADC and Death Wish were planning to distill a special line of coffee-infused vodka there.
(It is unclear what the plans are for the Yates Street project now. Gillen said there is another group interested in moving into the space but did not disclose details.)
Even if The Mill project isn't the right fit, Sicari said he's excited that it will be another place for a brewery and distillery in the area.
"We are a growing company and anywhere we can be involved with helping a producer come in would be great," he said.
Kane Grogan, who does advertising and marketing for Death Wish, said the lease had been up at their current home in Round Lake and that they were looking to relocate and expand in Schenectady.
Grogan said a deal for The Mill didn't work out due to some back-and-forth and timing issues. Death Wish instead signed on for another three years at its current property.
He said Death Wish's ultimate goal is to have its own building in the future.
The overall idea for the site
Joe Bonilla, executive director of the Capital Craft Beverage Trail Association, which represents more than a dozen craft beverage manufacturers in the region, said the project would promote industry collaboration.
"We have seen this work organically in the Warehouse District in Albany," he said. "The concept of placing this 'producer-friendly' district alongside housing, creative spaces and office space is a recipe for economic success that more communities should look to emulate."
The project is an ambitious one for Re4orm in an area of State Street that is slowly starting to recover.
The early 1900s buildings are in bad shape, Gillen said. They include 102, 104, 110, 116 and 122 State St. along with a couple on Mill Lane and S Church Street.
They also have environmental issues. One building was a dry cleaner. The funding from the state would be used, in part, for the cleanup. One building may have to be demolished due to contaminants, Gillen said.
The project also includes plans for art space and loft apartments. The number of units is unclear at this time. Square footage among all the buildings totals 68,000.
"The theme is to have space for working artists and folks who occupy space there to make and demonstrate their products," Gillen said. "The companies want to occupy first-floor space and we will have apartments."
The site is just down the street from the old YMCA building at 13 State St., which is being converted into 61 senior housing units. And nearby Liberty Park, across from Schenectady County Community College, will also be expanded and rebranded as Gateway Park.
Schenectady County is now home to Capoccia Vineyards & Winery, Mad Jack Brewing Company, and Wolf Hollow Brewing Company. In March Capoccia Vineyards, located in Niskayuna, opened a wine bar on the first floor of the Foster Building on State Street in downtown.
Haley Viccaro is on Twitter as @HRViccaro.
Hi there. Comments have been closed for this item. Still have something to say? Contact us.