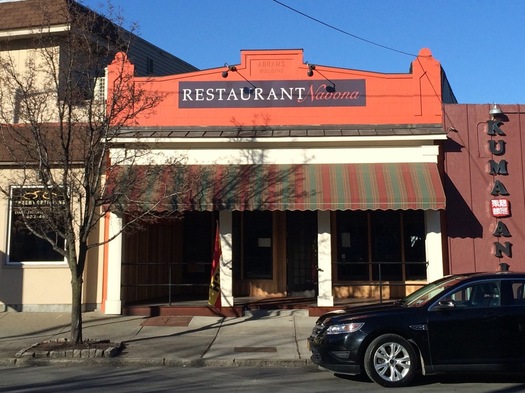 With 2016 about to end, we're talking with a bunch of people about favorite/interesting things from the past year.
First up: We asked about people around the online Neighborhood about their favorite local foods or drinks of the past year.

Silvia from DelSo
I've got a new local favorite! R&G makes fantastic yogurt -- either plain or maple flavored. I bought it initially at the Troy farmers' market, but have subsequently purchased it at the Delmar Saturday market. I'm sure it's available at the Honest Weight, too.
I love this yogurt because it proves that "plain" can equal amazing. It's creamy, rich and slightly tart and makes me wonder why I spent so many years eating sugar-filled yogurt.
Lauren Hittinger Hodgson, person of Troy and AOA contributor
There are certain establishments that I want to hate because they are completely hipster, or maybe the menu tries a little too hard with avocado, or toast, or similar nonsense. As much as I love the Confectionery and Peck's Arcade, I was skeptical of Little Pecks, a Clark House Hospitality "all day" quick serve restaurant and coffee shop that opened this year. I just wasn't sure that Troy could support another coffee shop, and I was worried about the pricing.
But, guys. They have the most amazing breakfast sandwich on this planet. Their Egg & Cheese on a Biscuit is so delectable I will venture out even on the the most frigid day to get a bite of this fabulous snack. The biscuit is the perfect crunchy but moist vehicle for perfectly cooked egg with creamy, cheesy goodness. And they add this awesome sauce and pickles. And it's $5, which I can afford. It is insanely delicious and completely worth it.
Jona from zeelemons
My favorite meal this year was at Tara Kitchen in Schenectady. I ordered the brown lentils with green olives and preserved lemons - super simple flavors but it surely made an impact... so much so, that they will be catering our 2017 wedding! We stayed for what seemed like hours, sipping on wine and enjoying our meals with pita bread. Cozy atmosphere with views of the kitchen and the BEST baklava I've ever tried! It may be because it was dripping in butter and as a vegan I hadn't had real butter in four years but yes, I tried a bite and loved it.
Jon from Jon in Albany
Without question, the absolute best thing I ate this year was at a City Beer Hall dinner that paired whiskeys with food. The dessert course was just a couple of bites but those bites were absolutely fantastic. The dish was a reconstituted dried Greek fig stuffed with a intensely rich, creamy Harbison cheese. There were some pecans and a dark chocolate dusting on the plate too.
Nothing I ate over the course of the year blew me away like that stuffed fig. Everything about that plate -- the flavors, the textures, the aroma, the colors -- everything was beautiful. Also at that dinner was the best Manhattan I have ever had. The Manhattan combined bourbon with locally made bitters, rhubarb vermouth and a brandied cherry. Any future Manhattan I drink will be compared to this one. If you get the chance to attend to one of the pairing dinners at City Beer Hall, go.
Daniel from FUSSYlittleBLOG and Yelp
Cider Batter Fried Cheese Curds from Yellow Rock Cafe at Indian Ladder Farms. Mozzarella with melba is our locally-famous, deep-fried cheese dish. But this year, I discovered another deep-fried cheese dish that's local to the core. These are made from Palatine Valley Dairy cheese curds (Nelliston, NY), dipped in Indian Ladder Farms cider and New Hope Mills batter (Auburn, NY), and served with a farm-made hot pepper jelly.
I didn't think I could love a deep fried cheese dish more than the mozzarella with melba at Ralph's Tavern in Albany. But these light, golden, and crispy nuggets, with their salty and melted cheese curds inside, paired with the sweet and spicy jelly, squeaked past the Capital Region classic to capture my heart.
FWIW, a close second was the place that Celina turned me on to, which is still totally off the radar: The Breakfast Spot and its deep-fried whiting. The seasoning, and the frying of that fish are brilliant. I never would have thought to order that for breakfast. But when Celina makes a food recommendation, it's wise to listen.
Steve from I Like Food
I ate a great many delicious local things this past year. But one stands out in my mind as special, and that's the pizza at Restaurant Navona.
It's a shame that in 2016, there's still no one making a proper Neapolitan-style pizza in the Albany area, and in my opinion, it's a gaping hole in the culinary scene here. While the pizza at Navona is not a true Neapolitan pizza, it's the closest we have to the form, and it's excellent.
Melinda from Crumbs Around the Capital
The best thing I ate this year was dumplings at Northeast Dumplings House on Central Ave in Albany. There's nothing particularly fancy about the dumplings, but they are a such a solid comfort food. This place also serves them in really large orders, so you kind of have to go with a big group of friends. I love the dumplings but I also really love the social dining experience that comes with them.
The best thing I drank this year was a pumpkin latte at Psychedelicatessen in Troy. It was the first time I've ever had a seasonal pumpkin beverage that actually tasted like it had real pumpkin in it, instead of a pre-made, sweetened syrup. It was heavenly.
J+R from Chopsticks Optional
From the brisket to smoked wings, PJ's Bar-B-QSA in Saratoga Springs hit the spot in so many ways. But it was the discovery of the slop bucket that propelled this local hodgepodge to the top of our list. It's everything you ever wanted in Upstate's own version of a garbage plate: a hot mess of pulled pork with vinegar (our choice), bbq beans, curly fries, and mac salad (a swap for the coleslaw) smothered with melted cheddar. It's a guilty pleasure but each indulgent bite brings so much comfort.
Time to make eating lots of kale part of our New Year's resolution.
Julie from Julie Journeys
Best local thing I ate this year? Hands down a maple biscuit from The Flying Chicken in Troy. I had it in March and I'm seriously STILL dreaming of it. A buttery, crumbly, heavenly biscuit sandwich with a perfectly crisp, juicy piece of fried chicken. The combination of maple butter and hot sauce was harmonious! Add jazz and pinball to the mix and you know I'm on cloud nine.
Ashley from Saratoga Food Fanatic
I tasted a lot of amazing food this year, but I'd have to say the BEST thing I ate this year was the Beef Carpaccio at Sperry's Restaurant. With the addition of Chef Brian Bowden on staff in 2016, he created this appetizer that I can't get enough of. Thinly sliced filet of beef topped with truffle aioli, fried capers, pickled onion, parmesan and arugula, with a crispy five minute egg. All you have to do is cut into that yolk and you have gastronomic perfection.
Emily from Capital Region Dining Blog
The cold brew ice coffee at Iron Gate Cafe. It's smooth, robust, low acid, and drinking it makes you super productive for days! They also serve it in this enormous glass, so there's a lot to go around.
Hi there. Comments have been closed for this item. Still have something to say? Contact us.