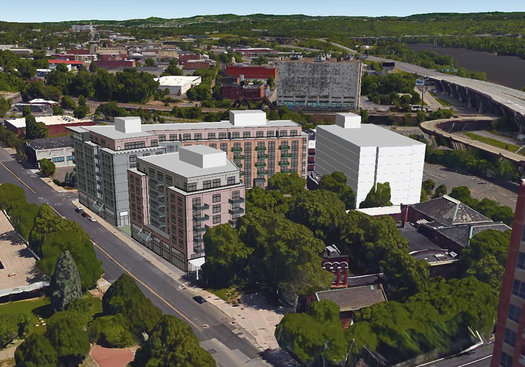 There's a new proposal for a big mixed-use development in downtown Albany just north of Quackenbush Square. The "Quackenbush Center" would include residential, retail, live-work space, and a hotel, potentially.
Here's an overview of what's being proposed...
The site and who's involved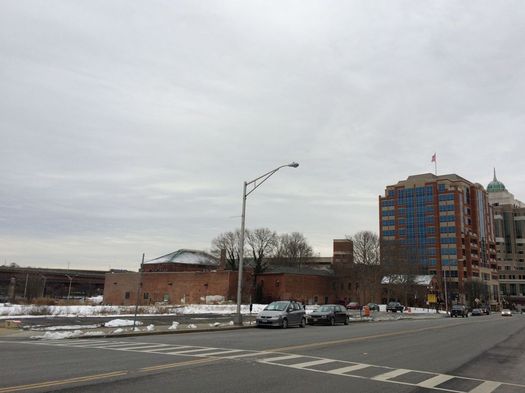 The 1.7-acre site -- 705 Broadway -- is bounded by Broadway, Spencer, and Montgomery. It's just north of Quackenbush Square -- which, as you know, includes the Albany Pump Station, the Olde English, Albany Distilling Co., and the Albany Heritage Area Visitors Center.
The developers backing this proposal are the Pioneer Companies, from the Syracuse area, and First Columbia, which is based here in the Capital Region.
This isn't the first such attempt at the site. Back in the mid-2000s a different group of Syracuse-based developers had proposed a similar project -- "The Amos at Quackenbush Square" -- but it fizzled and by 2012 it faced foreclosure. First Columbia bought the site in 2013.
You might also remember there had been a collection of old buildings on the site. They caught fire in September 2015 and were demolished.
Early renderings and plans
There are a handful of initial renderings and plans at the top in large format -- click or scroll all the way up.
What's proposed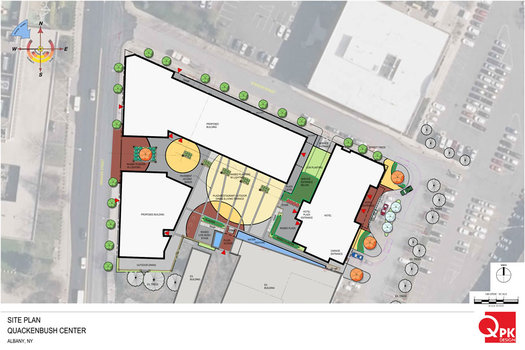 + Three large buildings, one each that would sit along Broadway, Spencer, and Montgomery.
+ The Broadway and Spencer buildings would be 10-stories tall and collectively include approximately 180 residential units along with retail space on the street level.
+ The Spencer building would include two-floor live/work spaces along it's (slightly elevated) street level -- the first floor of these units would include office or retail-type space, and the second floor would be residential.
+ The third building, along Montgomery, is slated to be a hotel of some type. The current plan is for it to include approximately 120 rooms, though that could change based on the hotel brand/operator.
+ The middle of the development would be a large plaza that would connect with Quackenbush Square.
+ There'd be a level of parking of underneath the development with roughly 180 spaces, slated to be set aside for the residences.
+ John O'Brien, chief development officer of the Pioneer Companies, said after an Albany Planning Board workshop Monday evening that they've been talking with the Albany Parking Authority about potentially creating a Montgomery Street entrance to the Quackenbush Garage to provide more access to parking. "There's a lot of parking down there, but some of it is not that accessible. This would create a really nice covered parking situation for us as well as our neighbors."
+ O'Brien said a total cost for the project is still being determined.
The project will be up before the Albany Planning Board at its January 19 meeting.
Why here and why now?
The site is just to the north of what you might consider downtown Albany proper, in that of land that sits between downtown Albany, the Warehouse District, and the foot of Arbor Hill. John O'Brien said the location was a big draw.
"The Warehouse District is really catching on, which is something that we see as a big plus to us. But [this location] is close in to the downtown area and very walkable," he said Monday. "People can live in this environment and not jump in a car -- they can walk to work."
Another plus: The architecture and amenities of Quackenbush Square right next door. O'Brien said there's a sense of place and the potential, with the planned plaza, to create a neighborhood-within-a-neighborhood there.
Meshing with Quackenbush Square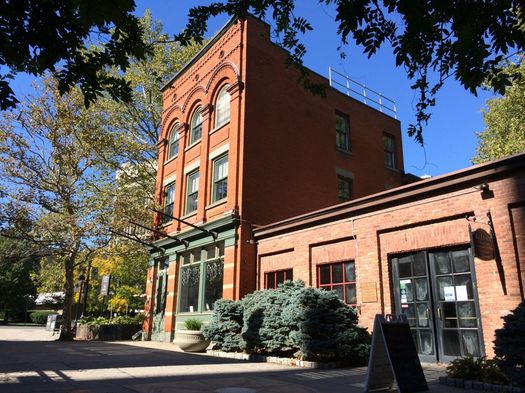 The buildings already at Quackenbush Square are historic -- the home of the Olde English is thought to be the city's second oldest building. And matching the new with the old can be a difficult architectural challenge.
You can see from the renderings above that the initial design is relatively modern. But John O'Brien said he thinks they can make it work.
"There are ways, with some of the materials we've looked at, to give it an industrial feel, but with new building materials," he said. "This Prodema [exterior] material that we've looked at -- which is a wood panel -- has been around Europe for a lot of years, but is relatively new to the United States. They're used as an accent panel in a lot of buildings, they're not used as a primary exterior skin. We really like the material. We think it will blend well with the historic nature of Quackenbush Square and really complement it -- distinguish itself -- but complement it."
The residential boom
There's a small, but consistent, boom in the creation of new residential units in downtown Albany over the last few years. And lately, the trend has started to include new construction as well. Just down the street from this site are two planned new-construction projects, one with 100 units and the other with 18. And farther north in the Warehouse District there are a couple of large conversion projects planned.
So we were curious about O'Brien's thoughts on the downtown residential market -- and whether it was getting ahead of itself.
"We've looked at the residential market in Syracuse -- I think Syracuse is a little bit ahead of Albany in downtown residential -- there's been a tremendous amount of apartments absorbed, almost instantaneously, in downtown Syracuse. Rochester is a little behind the curve there, but is catching on," he said. "We think in all the upstate cities that the residential component is a very viable opportunity for development."
Find It
Quackenbush Center (proposed)
705 Broadway
Albany, NY 12207
Hi there. Comments have been closed for this item. Still have something to say? Contact us.