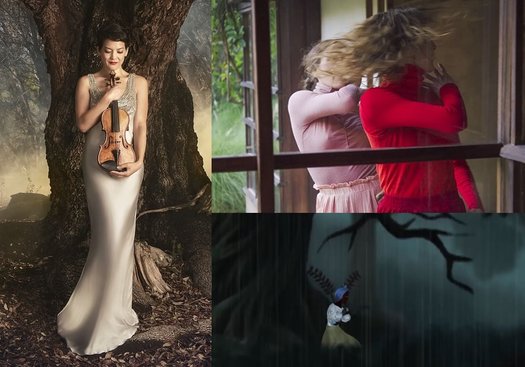 The schedule for the spring 2017 season at EMPAC is out. And, as in past seasons, it's full of all sorts of different, cutting edge, and challenging performances, talks, and demonstrations.
This time around, the topics range from digital activism to video games to music to re-imagining a theater classic to architecture.
Here's a quick-scan of the slate...
All blurbage via EMPAC. The links have more detail and ticket info.
January 17: Digital Tribalisms: Millenials, Hashtag Activism, and the New DIY Movements
"What do Pokemon GO and Black Lives Matter have in common? Anna Everett will look at how Millennials simultaneously negate and nurture contemporary moral panics about the dangers of excessive computer use. From fears of violent video game addiction, distracted driving, sexting by minors, online terrorist radicalization, to charges of arrested basic social skills and more, stereotypes of selfie-obsessed youths abound. And yet, there is an important sociocultural recalibration occurring among youth of the 21st century who have harnessed the power of ubiquitous computing to transform interactive media culture and reinvent participatory democracy."
January 27-28: Tesseract - Charles Atlas, Rashaun Mitchell, and Silas Riener
"The new two-part work, Tesseract, by artist Charles Atlas and choreographers Rashaun Mitchell and Silas Riener, will be presented for the first time following several years of development at EMPAC."
February 1: Kill the Overseer!: Playing the Rebel Slave in Videogames
"In a video game demo and talk, Sarah Juliet Lauro will discuss how resistance to slavery is represented in video and computer games. Lauro will profile many games that feature this narrative and will demo an art game being developed by students at the University of Southern California called Thralled, which focuses on a runaway slave in Brazil."
February 10: Poor People's TV Room - Okwui Okpokwasili
"Choreographer, writer, and performer Okwui Okpokwasili and director Peter Born are at EMPAC to present their new work, Poor People's TV Room. Okpokwasili has been at EMPAC previously to perform for choreographers Nora Chipaumire and Ralph Lemon. Now returning as choreographer herself, Okpokwasili's style transcends genre categories like experimental theater and conceptual choreography. The artist performs with three other women in a multifaceted work that features live song, dance, and text amid other media including television, audio recording, light, plastic, cloth, and wood."
February 16-18: Introduction to Wave Field Synthesis - Argeo Ascani, Todd Vos, and Jeff Svatek
"Join EMPAC's music curator Argeo Ascani and audio engineers Todd Vos and Jeff Svatek for an in-depth demonstration and discussion of EMPAC's 496-speaker Wave Field Synthesis audio system."
February 23: Modern Living - Gerard & Kelly
"Modern Living is a multi-chapter project by choreographers Gerard & Kelly made in collaboration with L.A. Dance Project to explore themes of queer intimacy and domestic space within legacies of modernist architecture. The project began as two site-specific dance performances, which the duo are now in residence at EMPAC to translate into a gallery installation integrating architectural forms and video projection."
March 1: Pauline Boudry / Renate Lorenz
"Berlin-based artists Pauline Boudry and Renate Lorenz are in residence at EMPAC to produce a new moving-image work with multiple performers. For this event, the duo will introduce a program of videos by themselves and others, providing context for and insight into their new project."
March 3: Mohammad Reza Mortazavi
"Respected from Tehran to Berlin to Shanghai, Iranian hand drummer Mohammad Reza Mortazavi comes to EMPAC for a rare US performance."
March 9-10: Our Town - RPI Players
"Our Town: a New Media Theatrical Experience presents a new media re-imagining of Thornton Wilder's American theater classic."
March 23: Isabelle Pauwels
"Canadian artist Isabelle Pauwels is in residence at EMPAC to complete the pre-production and cast the actors for her major new moving-image work that will be in production in fall 2017. The project takes its cues from the scripted artifice of professional Mixed Martial Arts (MMA), and the spectacle of the televised Ultimate Fighting Championship (UFC)."
March 27: Some Kind of Joy: Some Kind of Joy: The Inside Story of Grimshaw in Twelve Buildings
"Some Kind of Joy: The Inside Story of Grimshaw in Twelve Buildings, directed by Sam Hobkinson, revisits key projects from the history of this renowned architectural practice. From Sir Nicholas Grimshaw's first scheme in 1967, through to the likes of Bath Spa, Southern Cross Station, the Eden Project, and Fulton Center, we hear first-hand from the people who bring these buildings to life, and show the inspiration, design, and occasional trials and tribulations of delivering out-of-the-ordinary buildings. EMPAC is featured in this documentary film as one of the 12 buildings."
March 29: When Performance and Philosophy Become Design Materials - Susan Kozel
"Can we re-enact the experiences and histories of others? Are there ethical implications when affect becomes a design material? Can the performative methods currently used in human-computer interaction (HCI) design be refined and expanded using dance improvisation?"
March 30: FIELD - Andrew Schneider
"Performer, writer, and interactive-electronics artist Andrew Schneider completes a series of three development residencies at EMPAC with this work-in-progress showing of his new performance, FIELD. Picking up where his Obie Award-winning project YOUARENOWHERE left off, FIELD explores the physics and temporality of parallel universes and perception."
April 12: From Feldenkrais to GoPro - Mary Armentrout
"Choreographer Mary Armentrout is in residence to develop a new performance with media artist Ian Winters, composer Evelyn Ficarra, and performer Chris Evans. Together, the collaborators will lead a workshop in which participants explore the intersections of bodily experience and technology."
April 18: Anne Akiko Meyers
"A superstar of the violin world, Anne Akiko Meyers presents an evening featuring repertoire works by Ravel and Beethoven as well as new pieces by Jakub Ciupinski and Morten Lauridesen. Pianist Akira Aguchi will accompany."
April 19: The Construction of Beauty: Music and Math - Johannes Goebel
"This workshop will center on the question of whether music and mathematics are bonded in an intrinsic relationship, or if instead culturally driven concepts establish their marriage (nature vs. nurture). This evening will include music generated by computer, presentations of custom-built xylophones and metallophones, and works by JS Bach played on pianos with different tuning systems."
April 24: Mariam Ghani
"Mariam Ghani introduces several films from the Afghan Film Archive--the state film institute based in Kabul, Afghanistan--as part of her ongoing research project What we Left Unfinished."
April 25: The Return of La Argentina - Trajal Harrell
"In The Return of La Argentina, Harrell mixes postmodern/voguing styles with the Japanese dance/theater form "butoh," co-founded by Kazuo Ohno and Tatsumi Hijikata."
____
Earlier on AOA: NYS Writers Institute visiting writers spring 2017