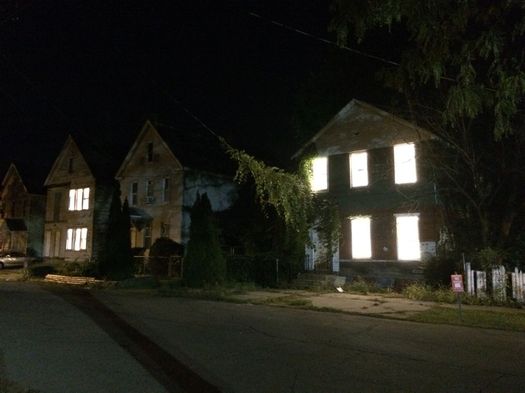 By Haley Viccaro
Now that the vacant buildings in Albany, Schenectady and Troy are no longer "breathing" light, what's next for the properties?

The land banks in the three cities, along with the cities themselves, are working to connect potential buyers with the homes in the hope they'll be repaired and occupied.
How's that going so far?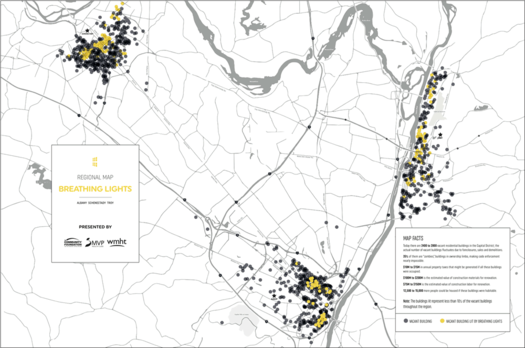 A map of vacant homes in Albany, Schenectady, and Troy from the Breathing Lights project (here's a larger version) -- the yellow dots represent vacant homes there were part of the art installation.

Officials say the Breathing Lights project generated interest in the properties during its two-month run, though the attention has slowed since. It's still early - Breathing Lights ended at the start of December -- but so far just a few properties have sold.

In Schenectady a few properties owned by the Capital Region Land Bank have been purchased on Eastern Avenue. Other than that, the city is "waiting to see what happens next," said Jackie Mancini, Schenectady's director of development.
She admitted that the city isn't keeping track of people expressing interest in or purchasing Breathing Lights homes specifically.
"We're trying to sell them regardless," she said. Almost all of the Breathing Lights homes are owned by the city.

In Albany the project has sparked interest in properties owned by the Albany County Land Bank and the process to purchase homes, according to Adam Zaranko, executive director of the org. But none have been lined up with a possible buyer yet. A majority of the homes are owned by the land bank.

In Troy there has been increased interest in the vacant properties highlighted by Breathing Lights, said Chris Brown, planning and operations manager with the Troy Community Land Bank. People expressed interest in several of the properties before the project but they haven't been sold yet. The land bank owns a little more than a dozen of the homes.
Initial interest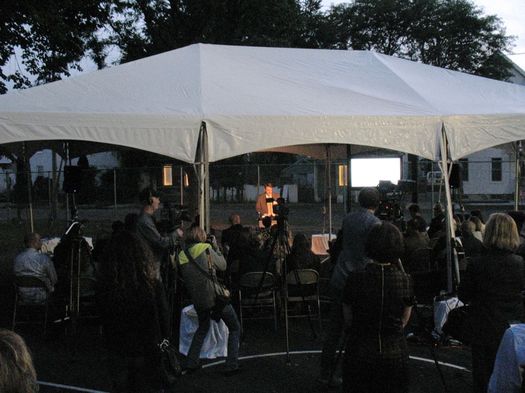 The Breathing Lights opening press conference in Schenectady in September.

Many of the houses highlighted by Breathing Lights are located in areas of the cities where blight is prominent. In Schenectady a majority are in Mont Pleasant and Hamilton Hill, in Albany they're centered in Arbor Hill, West Hill, and the South End. And in Troy they're mostly in North Central.

"Those neighborhoods are some of the most distressed and tend to have high concentrations of vacant and abandoned buildings," Zaranko said.
Brown said the goal was to get more eyes on the vacant properties in Troy's North Central neighborhood. He said people often don't know they're there or that they're available.
"Interest in these properties has gone from about six people prior to the Breathing Lights installation going in to about two dozen people," he said. "We're trying to take on the worst of the worst."
He said so far the land bank hasn't been marketing the properties but plans to do so in the next two to three months after stabilizations are complete.

Marva Isaacs, president of the Hamilton Hill Neighborhood Association in Schenectady, said the Breathing Lights project brought a lot of attention to the abandoned homes in the high-crime area that are often overlooked.

She said she was surprised at how many young people got involved and expressed interest in the properties. She said they are also working to encourage people to consider buying and repairing homes in the neighborhood.

Schenectady has demolished more than 100 blighted properties in recent years. Richard Ruzzo, chairman of the Capital Region Land Bank, said the Breathing Lights project is an opportunity to save some of them and help to restore the fabric of the communities.

"The gut feel and feedback we've gotten at the land bank is that [Breathing Lights] has raised awareness of the properties and their vacant status and has put people of interest in play with those properties," he said. "Even one property having some attention and awareness is 100 percent more than we would have had prior to the Breathing Lights project."
Eastern Avenue revival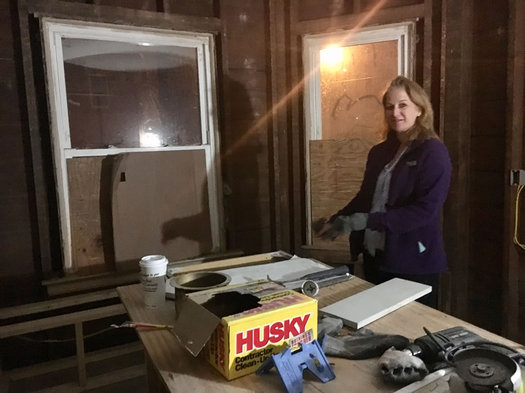 Bonnie Novella inside 854 Eastern Ave in Schenectady. She purchased the property after discovering it was part of the Breathing Lights project.

Bonnie Novella agreed to have the lights installed in the properties she is renovating at 762 and 764 Eastern Ave in Schenectady. That's how she discovered that 854 Eastern Ave -- about a quarter mile to the east -- was also part of the project and available to buy. The building had been tagged for demolition.

"I was attending a cocktail event at [St. Mary's Church] and Steve Strichman [former executive director of the Capital Region Land Bank] said there is a house a couple doors away that's for sale," she said. "He said you might want to look at it. I had my hands full, but it's a really great house. I ended up buying that one as well. Breathing Lights really made that happen."

Novella is planning to rent out the properties after she's finished with renovations. But she said her goals extend beyond the potential financial benefits -- she's also aiming to have a positive impact on the wider neighborhood.

"I'm at a point now where I'm so excited and passionate about the progress we're making and the results are rewarding in ways I didn't even expect," she said during an interview inside 764 Eastern. "People in the neighborhood really do respond well to seeing the houses come back to life."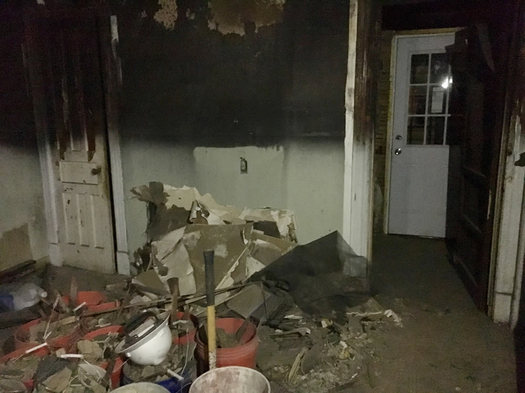 Novella is gutting the inside of 854 Eastern Ave. Debris is shown from a fire on the second floor about a decade ago.

Novella, who sells financial and risk management services to real estate developers, is from Ballston Spa and started purchasing properties in Schenectady about three years ago.

She said as a kid she remembered Schenectady as a deteriorated place. More recently she started seeing it as a good investment opportunity, pointing to the growth of businesses and housing downtown, along with the Mohawk Harbor project and the new casino there.
"These beautiful buildings are honestly full of old materials and a lot of people just demo them," she said. "I found guys putting doors in the dumpster and I'm like, 'Get those doors out!' They're really good old doors and the woodwork is great when you refinish them."
The Breathing Lights home she heard about and later purchased at 854 Eastern needs a lot of work. A lot of work. There was a fire on the second floor almost a decade ago and the inside looks like it hasn't been touched since. The walls and ceilings are falling down and Novella literally had to scoop up debris.
Despite all that, she sees the beauty behind the beast.
"These beautiful buildings are honestly full of old materials and a lot of people just demo them," she said. "I found guys putting doors in the dumpster and I'm like, 'Get those doors out!' They're really good old doors and the woodwork is great when you refinish them."
All that work requires time, attention, and, of course, money. The houses may be cheap to purchase -- sometimes only a couple thousand dollars -- but the cost of repairs and renovations adds up quickly. An example: Novella estimated that new heating, electrical, and plumbing alone at 764 Eastern will end up being about $50,000.
Still, she said the Breathing Lights project encompasses what she's looking to accomplish and hopes it will inspire others to do the same.

"I see the opportunity here from a financial perspective and it also gives you an incredible reward to see a building come back to life," she said. "That's why Breathing Lights was such a great metaphor."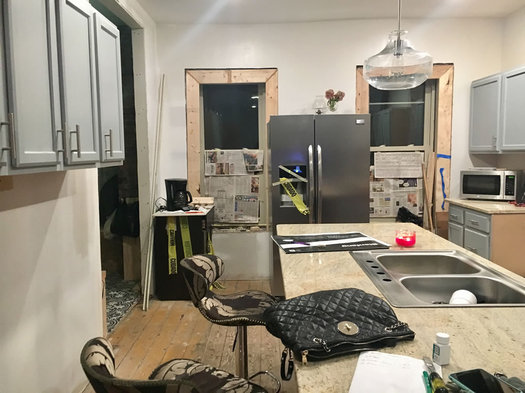 The kitchen of 764 Eastern Ave, which Novella is renovating and was part of the Breathing Lights project.
Reclamation clinics
To widen the pool of people who could potentially take on the challenge of renovating a vacant home, Breathing Lights -- in partnership with the cities, land banks and other partners -- has also included several Building Reclamation Clinics. The last two are scheduled for January 28 and February 8.
The events cover topics such as how to purchase a home, renovate it on a budget, and qualify for grants or loans.

Judie Gilmore, project director for Breathing Lights, said the clinics, run by project architect Barbara Nelson, have been well attended so far with between 30 to 40 people at each one.

"We heard a lot being out on the street that people want information about the houses and not knowing they're available or who owns them," she said. "We wanted to make sure they have the resources and contacts with the land banks."

Gilmore said the project team is looking to find a way to fund more clinics in the future.
Adam Zaranko -- from the Albany County Land Bank -- said he would like to partner with other organizations in Albany to have similar workshops.

"I was really pleased with the attendance at [the Breathing Lights workshops] and the interest afterwards of people looking to learn more," he said. "We are having a big increase in showing our properties and a lot of those have been Breathing Lights properties."

A Breathing Lights project partner, the National Trust for Historic Preservation, is also exploring putting together a toolkit on its website that would serve as a resource guide on rehabilitation and vacant homes, Gilmore said.
Project finale
On April 7 and April 8 Breathing Lights will hold a Project Finale and Policy Summit at Proctors with discussions on policy, presentations on project impacts, a survey by the UAlbany's Rockefeller College on reaction and viewership, and the debut of WMHT's Behind the Lights documentary.
"We're still putting it together," Gilmore said. "We don't want it to be a boring summary. We may format it like a TEDx style presentation from regional leaders of what the future brings in their prospective cities. We're looking at more interesting and exciting presentations from policy makers and affordable housing leaders. We're going to be presenting our findings from our evaluation and the project's impact on the region."
Haley Viccaro is on Twitter as @HRViccaro.
Earlier
Hi there. Comments have been closed for this item. Still have something to say? Contact us.