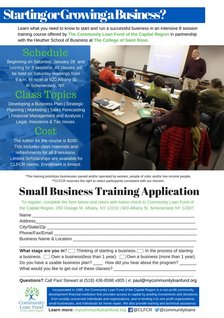 The Community Loan Fund of the Capital Region has another one of its business planning courses starting up this weekend. Class blurbage:
Join us for some real world business planning. Learn what you need to know to start and run a successful small business with our 8-week intensive training course, offered in partnership with the Huether School of Business of The College of Saint Rose. Class topics include: developing a business plan, strategic planning, marketing, sales forecasting, financial management and analysis, legal, insurance and tax issues. The course provides fundamental planning concepts and tools to help existing and potential business owners.
The first class in the new term is this Saturday, January 28. The course consists of eight classes on Saturday mornings from 9 am-noon at 920 Albany Street in Schenectady. The fee for the course is $160 and includes class materials. See the link above for registration info.
If you're interested in the class, but can't start this term or it fills up, the loan fund offers it a few times during the year.
The Community Loan Fund? It provides low-cost loans to social and micro-entrepreneurs as well as small businesses, in addition to making training available (such as the class mentioned above).