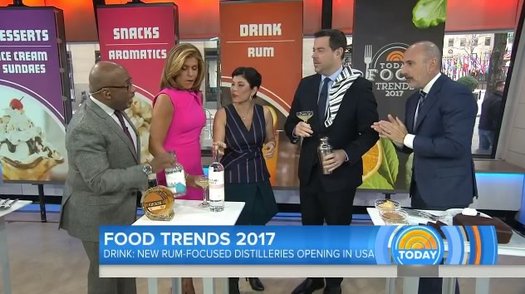 Check it out: Albany Distilling Co.'s Quackenbush Still House Rum popped up on the Today Show Monday morning as part of a segment about food trends for 2017.
Food & Wine editor in chief Nilou Motamed pointed to the rise of rum distilleries in the United States as one of the trends. (See recent Food & Wine listicle about rum being the "spirit of the year.") ADC's name wasn't mentioned, but Al Roker picked up the bottle and mentioned it was from Upstate New York and Motamed added it was from Albany.
As you know, Albany Distilling is located on Montgomery Street at Quackenbush Square in downtown Albany. It opened in and was Albany's first distillery since Prohibition. It produces whiskey and rum, as well as a coffee-flavored vodka in collaboration with Death Wish Coffee.
screengrab from The Today Show