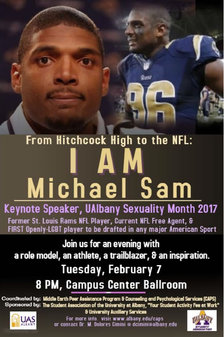 Michael Sam -- the first openly gay player to be drafted by an NFL team -- will be the keynote speaker for UAlbany's Sexualty Month February 7. The talk is free and open to the public.
Sam had a very good college football career, being named the co-defensive player of the year in the nation's best conference as a senior at Missouri. And his public acknowledgement of his sexual orientation made national headlines, including a high-profile interview on ESPN.
He got drafted by the then-St. Louis Rams near the end of the 2014 NFL draft but got cut before the regular season started. Dallas picked up him, but he didn't stick there. He was Dancing With the Stars. And then there was a a stint the Canadian Football League, which didn't work out. The promo materials for his talk identify him as an NFL free agent, so it sounds like he's still trying to make it in the league.
Keynote blurbage:
A role model and trailblazer for inclusion in sports, revered for his unswerving courage, graciousness and fortitude, Sam offers firsthand insight into leveraging individual personal strengths to pursue ones dreams, inspiring audiences with perspective on what it means to work hard to define and achieve success.
The talk at UAlbany is Tuesday, February 7 t 8 pm in the Campus Center Ballroom on the uptown campus.
It's one of multiple events the university has scheduled for its sexuality month.