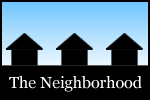 Among the topics in this most recent spin around the Capital Region's online neighborhood: Jesus slumped over his iPhone, more from the Women's March, immigrant roots, dystopian themes, feeling relevant, fear of coyotes, winter beauty, soup strolling, Chowderfest, tacos, beer, restaurant books, and dogs.

Amy on the current political situation: "I've been envisioning my Lord and savior slumped in the kitchen over his iPhone as he scrolls through the news: xenophobia, Islamophobia, fear of the immigrant, fear of the Other, loathing of all, so much of it fomented by those who call themselves Christian. And as he reads, he's yanking at his hair and yelling, DIDN'T THEY LISTEN TO ANYTHING I SAID?!?!"
The Bee Balm Gal shared a bunch of photos and thoughts from her experience attending the Women's March in DC with a local church group.
Chuck reflected on his family's immigrant roots.
Silvia, a school librarian, was thinking about the dystopian themes of the series that are so popular with her students.
Daniel on trying to find small things in everyday life that feel relevant to everything that's been going on in the wider world.
Rob tried to dial down the perception of danger from coyotes.
Jackie looked for little bits of beauty in the dry winter landscape.
Steve N. tasted a lot of soup at the Schenectady Soup Stroll.
Otis offered tips for enjoying the Saratoga Chowderfest.
Melinda concluded that "yes, the food at [La Mexicana] is actually crazy delicious."
Zena stopped in at Druthers in Albany.
Dominic on restaurant books of various sorts.
A Mr. Dave sighting! He tried the new Grand Mac at McDonald's.
And Randal thought about what it means to bring a dog into your life.