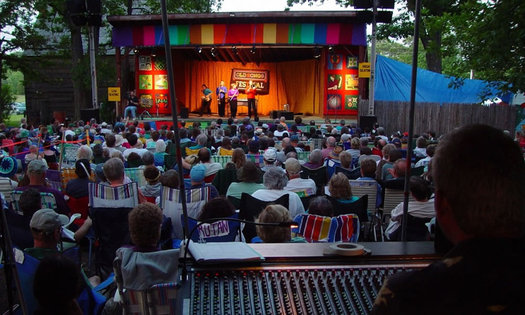 The annual Old Songs Folk Festival returns June 23-25 at the Altamont Fairgrounds. Tickets go on sale online February 20.
That link includes a big list of performers for this year's festival, now in its 37th year. Festival blurbage:
Great guitarists, a good dose of blues, all day and evening dancing on a wooden floor, a capella singing, Appalachian songs, a mariachi band, maritime songs, old-time music, shape note gatherings, and music from Ireland. Sing, dance, jam, and listen at this highly participatory event for the whole family. Old Songs encourages audience members to join jam sessions, take part in learn-how sessions, sing sacred harp, move their feet to our great dance bands or take a Friday afternoon class. School age children who play an instrument can participate in the "Great Groove Band" during the festival with the help of music coaches and musical instruction.
Old Songs is an org focused on keeping traditional music and dance genres alive through performance, classes, and other programs. So you can see how the festival lines up with that mission.
Tickets are $120 for an all-festival pass for adults / $115 for seniors / $60 for students / $50 for youth / free for kids 12 and younger. (Prices for all-festival tickets will go up $10-$15 depending on the ticket starting June 2.) Single-day session tickets start at $40.
The festival also includes an on-site camping option.
photo via Old Songs