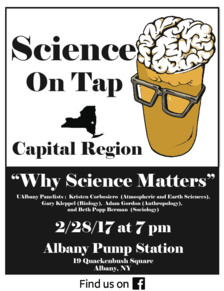 A new drink-and-discuss series -- Science on Tap -- is starting up February 28 at the Albany Pump Station. Blurbage:
Science on Tap is an opportunity for conversation, debate and interaction among scientists and the public while drinking beer at a great local bar. Each month local science experts will be brought in for a lively talk and discussion over great food and drink. Science on Tap Capital Region will rotate between Albany Pump Station (Albany), Bier Abbey (Schenectady), and The Ruck (Troy). All events are FREE and open to the public. You DO NOT need to be 21 to come to this event - ALL ARE WELCOME!
The panel for the first event will be UAlbany professors talking about "what science is, why it is important, why it should be funded, and if it should inform public policy":
+ Atmospheric scientist Kristen Corbosiero
+ Biologist Gary Kleppel
+ Sociologist Beth Popp Berman
+ Anthropologist Adam Gordon
It starts at 7 pm on Tuesday, February 28.
By the way: You might recognize Gary Kleppel's name from his work on using grazing animals such as sheep and goats to combat invasive species at the city of Albany's Normanskill Farm and other spots.