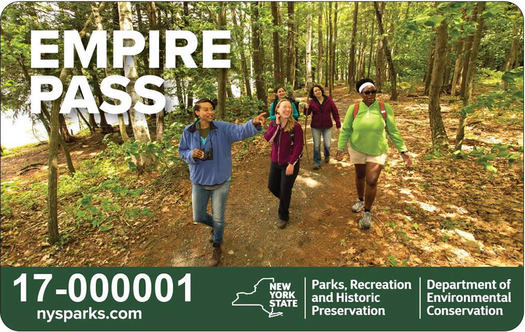 If you're a frequent New York State Park visitor the Empire Pass has been the most economical option for paying entrance fees -- $65 gets you unlimited entry for the year. So, anything past your 8th or 9th visit is free admission.
The downside: It has to be affixed to a car window.
Now there's a new option: The Empire Pass Card, which can be shared among members of a household and doesn't have to be stuck on a vehicle. The card is $80. Blurbage:
A new wallet-sized Empire Pass Card that can be shared within a household is now available. It's a family-friendly alternative to the traditional window decal, and not assigned to a specific vehicle. The new card can be used by parents, grandparents, caregivers and others.
The card is valid through December 31 of the year it's purchased. Here's the brochure with more info. And there's ordering info at that first link above (you can buy it online).
The Empire Pass stickers are still available, and they're still $65.
Multiple years
New York State Parks also offers multi-year cards -- $205 for three years, and $320 for five years.
There's also a lifetime Empire Pass for $750.