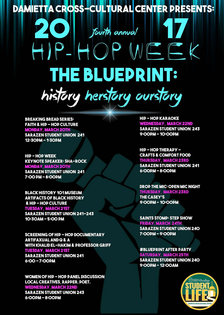 The annual Hip-Hop Week returns to Siena March 20-25 with a series of events focused on the art, politics, and culture of hip hop.
The keynote speaker this year is the groundbreaking MC Sha-Rock. As Siena professor Todd Snyder, a member of the Hip-Hop Week committee, writes:
Sha-Rock (our keynote) is the first woman of hip hop. She was a member of the pioneering group The Funky 4 +1 (know for their old school hit "That's the Joint"). She was the first female rapper to appear as a musical guest on SNL & was also featured in films such as "Beat Street" and "Wild Style." She had a huge influence on artists such as Run-DMC and Kurtis Blow.
There's a listing of the week's free-and-open-to-the-public events below.
This is now the fourth year for Siena's Hip-Hop Week, which has included talks by Grandmaster Flash and Chuck D in previous years. It's sponsored by the Damietta Cross-Cultural Center at Siena.
Public events
All events in the Sarazen Student Union. No ticket required.
March 20: Faith & Hip-Hop Culture 12:30-1:30 pm
March 20: Keynote Speaker: Sha-Rock 7 pm-8 pm
March 21: Black History 101 Museum: Artifacts of Black History & Hip-Hop Culture 10:30 am-5 pm
March 21: Screening of hip-hop documentary Artifaxual and Q&A with Khalid El-Hakim & Professor Griff 6-7 pm
March 22: Women of Hip-Hop panel discussion, local creatives, rapper, poet. 6-8 pm