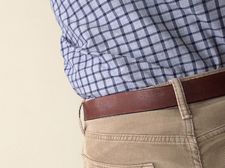 Jennifer emails:
Any chance you can ask your readers for suggestions on a good physical therapist for the lower back? I have been to a few different places around town over the years and seem to always get stuck with folks fresh out of school with little experience.
In addition to physical therapy, we're curious if there are other things -- like maybe specific yoga or other exercise classes in the area -- that people have have found helpful for back problems. (Of course, you'd always want to check with your doctor ahead of time to make sure any sort of other exercise wouldn't make the problem worse.)
So, got a a suggestion for Jennifer? Please share! And a sentence or two about why you're recommending a specific therapist or program can be very helpful.

Hi there. Comments have been closed for this item. Still have something to say? Contact us.