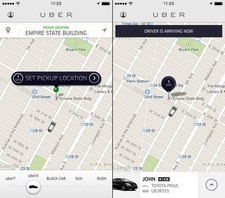 From the Siena poll out Monday: 76 percent respondents support allowing ride-hailing services such as Uber and Lyft to operate across the state.
And the proposal has widespread support, according to the poll results. More than 70 percent of respondents across every subgroup -- political, age, racial income, and so on -- supported the idea, with one exception. That group: people over age 55, in which the proposal had the support of 65 percent (and 14 percent said they didn't know or didn't have an opinion).
As you know, the issue is up again in the state legislature, and Andrew Cuomo has said he supports it.
Other bits from this Siena poll about issues such as the SUNY free tuition proposal, the Empire State Trail, Andrew Cuomo, and Donald Trump...
Issues
+ "Making college tuition free at SUNY and CUNY for New York families making less than $125,000, at an estimated cost to state taxpayers of $163 million per year"
Support: 58% | Oppose: 39%
+ "Extending the millionaire´s tax, which was scheduled to expire at the end of 2017, so that individuals earning more than $1 million a year and families earning more than $2 million a year continue to be taxed at a rate of about nine percent, rather than dropping to about seven percent"
Support: 77% | Oppose: 21% (Among Republican it was 57-36)
+ " Raising the age of criminal responsibility from 16 to 18 years of age so 16- and 17-year-olds are treated as minors rather than adults in criminal cases"
Support: 53% | Oppose: 45% (White: 48-49 | African-American: 71-29 | Latino: 54-44)
+ " Completing a 750-mile biking and hiking pathway, called the Empire State Trail, from New York City to Canada and from Albany to Buffalo, at a cost of two hundred million dollars"
Support: 38% | Oppose: 57%
Andrew Cuomo
Andrew Cuomo's favorable/unfavorable was 60-34, the highest mark in two years, according to SRI. And 50 percent of respondents said they would vote to re-elect him.
Schumer and Gillibrand
+ Chuck Schumer favorable/unfavorable: 64-31
+ Kirsten Gillibrand: 46-24 (with 29 percent don't know or no opinion)
Donald Trump
+ Donald Trump favorable/unfavorable: 36-59 -- for 15-79 among Democrats, 71-26 among Republicans, 45-53 among independents
+ "How would you rate the job that Donald Trump is doing as President? Would you rate it as excellent, good, fair, or poor?"
Excellent: 12% | Good: 17% | Fair: 20% | Poor: 48%
____
SRI says the poll included 723 New York State registered voters and was conducted February 19-23. Margin of error is +/- 4.2%.
Hi there. Comments have been closed for this item. Still have something to say? Contact us.