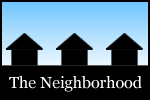 Among the topics in this most recent spin around the Capital Region's online neighborhood: the French marquis, 197 River Street, George Washington, store tokens, Smith's, Uncle John's Diner, wings, a disappointing dinner, snowy walks, the debt snowball, and doing our best regardless.

Carl recalled the story of the French marquis who took refuge in Troy, the legacy of whom threads all the way to present in Watervliet.
Suzanne continued the story of 197 River Street in Troy, which had a long and colorful history before the 20th century even began.
The Friends of Albany History counted George Washington's visits to Albany.
Chuck shared a bunch of store tokens and currency minted in Albany during the Civil War era.
Zena went to "The Time Warp That Is/Was Smith's of Cohoes" for dinner.
The Traveling Brunchers stopped in at Uncle John's Diner in Cohoes for breakfast.
Daniel issued a declaration of wing excellence.
Dominic had a disappointing dinner at a high-profile restaurant in Hudson.
Jackie took advantage of the briefly snowy weather for some winter nature walks.
Crystal on melting the debt snowball.
And Amy after an odd confrontation in a sandwich shop: "Sometimes I think this is the challenge and calling of life: to witness each other at our worst, and to do our best regardless."