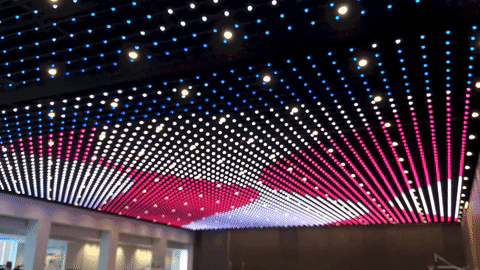 Here's a bonus track from yesterday's Albany Capital Center photo tour.
The second floor of the venue includes a huge ballroom/multi-purpose space -- 22,500 square feet with a 26-foot ceiling and no support columns. And it takes a second to process that you're in such an enormous, uninterrupted indoor space.
Anyway, the feel of the room further amplified by the LED lights that stud the ceiling. They can be programmable to change into millions of different colors while creating patterns that twinkle or move.
That's what the gif above is showing, a pattern from Wednesday that evokes a flapping American flag. It's kind of mesmerizing. (And it really weirds out the autofocus on a phone camera.)
Here's a longer (but still short) video clip if you'd like to zone out a bit more...