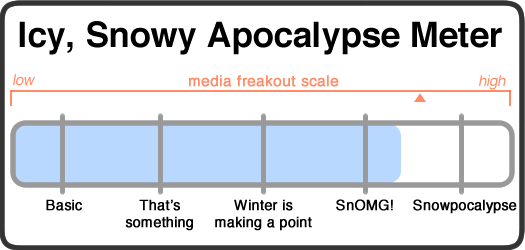 Update Tuesday morning: The National Weather Service has upgraded the situation to a blizzard warning through Wednesday morning. Snow totals are now predicted to be in the 18-24 inch range. "Extremely dangerous travel conditions due to snow covered roads, white-out conditions along with blowing and drifting snow."
____
Winter's decided to kick it old school.
The National Weather Service has issued a winter storm warning for this region starting at Monday night and continuing until Wednesday evening as a big Nor'easter makes its way up the coast. The paraphrased forecast:
Monday night: Snow starts late, mostly after midnight. Maybe an inch. Lows in the mid 20s.
Tuesday: Lots of snow, heavy at times -- maybe 1-3 inches per hour at times. Highs in the mid 20s.
Tuesday night: More snow, windy. Lows around 16.
Wednesday: Snow continues, windy. Upper 20s.
Wednesday night: Chance of snow declining. Lows in the 10s.
As mentioned up top, this is a coastal storm and, as you know, the track of these storms can be hard to predict and the path can make a big difference in how much snow we get. But the NWS Albany forecast discussion indicates the models are starting to converge on a path that will bring us some serious snow totals.
The winter storm warning has accumulations pegged at 12-18 inches for this area. The probabilistic snowfall forecast maps are predicting a high-to-low gradient of snowfall totals from southeast to northwest (pretty typical for a coastal storm) -- with a range or 9-22 inches in the core of the Capital Region. The chance of more than a foot is pegged at 71 percent for Albany, and the chance of 18 inches or more at 34 percent. So, yep, the forecasts are leaning toward some high totals. (One possible upside: The relatively cold temps hopefully keep the snow on the light and fluffy side.)
Another thing to consider: It looks like the wind will pick up Tuesday, which could mean blowing snow and snow relatively deep drifts in spots. It sounds like traveling on Tuesday could be slow going.
So we're going to rate this as a full-on SnOMG icy, snowy apocalypse. The forecasts are pointing to more than a foot, and 18 inches isn't that bad of a bet. Winter's out a practice, but maybe it's still got some fight.
Shovels and snowblowers at the ready, hardy upstaters!
Media freakout forecast: High. It's been a long time since the hype machine has gotten a good cranking. Everyone make sure you stretch first.
Necessary note: You should take this all with an enormous bag of rock salt. AOA has absolutely no weather forecasting expertise. At all. That said, the world will probably not end because of some snow. Most likely.

Hi there. Comments have been closed for this item. Still have something to say? Contact us.