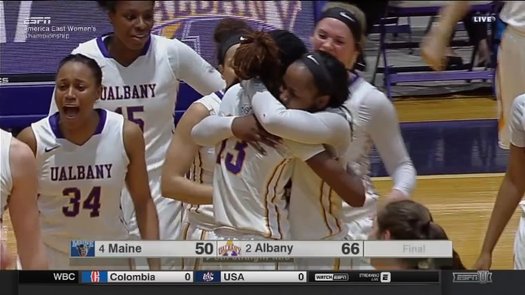 The good news: The UAlbany women's basketball team is headed to the NCAA tournament for the sixth straight year after winning their conference title yet again.
The not-good news: The Great Danes got a #16 seed and will be facing #1 overall seed UConn in the first round. At UConn's on-campus arena.
The NCAA released the brackets for the tournament Monday. UAlbany will face UConn Saturday at 11 am. The game will be on ESPN2.
To say that UConn is good is an understatement. UConn is the empire, the Death Star of women's college basketball.
The Huskies have won four national titles in a row. They're on a winning streak of 107 games. They don't just beat other teams, they steamroll them -- then back up and run over them again because, hey, why not. UConn's average margin of victory this season is 32.8 points per game.
It's remarkable how UConn has reframed how people talk about competition in women's college basketball. FiveThirtyEight projects UConn is facing "its toughest tournament in years" -- its projected probability of winning the whole thing is 52 percent. (On the men's side, the overall favorite, Villanova, is projected to have a 15 percent chance of winning the title.) And the stat nerd site is projecting that UAlbany's chances of beating UConn in the first round are less than 1 percent.
So, yeah, a UAlbany win on Saturday would an upset of epic proportions, one of the biggest ever in modern sports.
But don't let any of that take away from the remarkable achievements of UAlbany's women's team. To go to the NCAA tournament six years in a row from a conference that typically only sends one team is crazy good. And to make the tournament again this year after losing one of the school's best-ever players, and with a new head coach, makes the accomplishment that much more impressive.
If UConn beats UAlbany on Saturday, the Great Danes will be out of the tournament. But they won't have lost.
Hi there. Comments have been closed for this item. Still have something to say? Contact us.