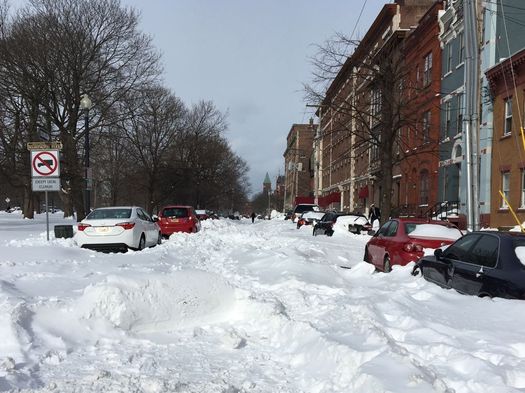 A lot of the post-blizzard talk Wednesday in Albany was about snow plowing -- in some cases, the lack of snow plowing. While the city's main streets were (remarkably) clear by Wednesday, many of the neighborhood side streets were decidedly not.
Here are some thoughts about how the city -- and all us -- might do better next time.
Let people know what's up
The city makes a good effort to get the word out about snow emergencies, pushing notifications along a bunch of different channels -- the media, social media, its website, and the Nixle service (you should sign up for that).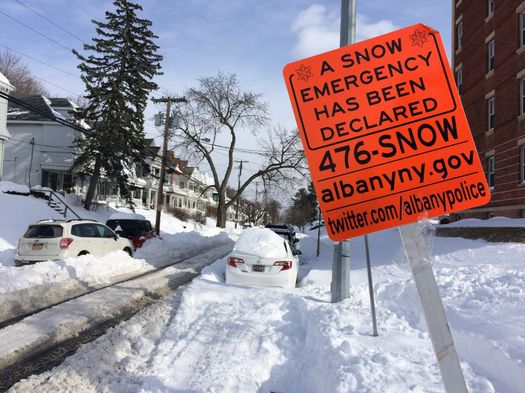 Myrtle Ave near Main.
That said, there's still room for providing residents with updates about snow clearing. The info doesn't have be to where every plow is at every moment (though apparently it's getting easier to do that), but posting regular updates about which streets or neighborhoods have been plowed -- and, more importantly, when the next set of streets can expect to be plowed -- would go some way toward helping people see that there's a plan at work. Sure, people aren't necessarily going to be happy to learn that their street isn't going to get plowed for another four hours -- but knowing that fact is better than wondering if it's going to happen.
And just making it explicit about how everything works can also help. It's pretty clear streets get plowed according to a hierarchy of priority. (As they should.) So publish a color-coded map noting which streets are which. Share it widely. People handle situations better when they know what to expect.
Also: Directly address problem spots. There are some streets around the city that, even by late Wednesday afternoon, were a mess and looked like they had gotten very little attention from plow crews. The people on those streets should be getting some sort of update about what's going on and how the city plans to fix it.
Review -- and be open about it
This blizzard is an unusual event. We just don't get 20some inches of snow in a typical winter storm. It's understandable that the systems and processes in place are going to bend, and maybe even break in a few places under that sort of strain. That's not good a thing, but it happens.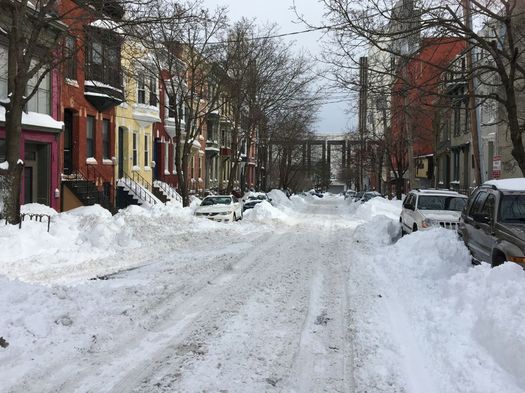 Hudson Ave on Wednesday afternoon.
So there should be some review after all this is over about what went right and went wrong. Share the results of that review. And if something could have gone better, say so. That might feel hard when politics are involved because of the way criticism is often delivered in that context (less than constructive). But there's strength in admitting you could have done better and then explaining how you intend to do so.
Also: The city should ask for feedback from residents in a systematic way -- maybe that's a survey, maybe it's working with neighborhood associations to gather comments.
Plan for the future
A question for that review: Are there better, more neighborhood-specific ways of approaching snow events? The challenge of clearing snow in a neighborhood such as the South End is a lot of different than, say, clearing snow in the area of upper New Scotland Ave because of the differences in the types of streets and the amount of on-street parking.
An example of the sort of neighborhood-specific problems than can crop up: Telling the residents of a narrow, tightly-parked street in Center Square that they could potentially get ticketed for not moving their car to the alternate side when there's literally a foot of snow standing on their street -- and the snow is still coming down -- just doesn't cut it. (Yep. At least the city reps were friendly about it.)
In that case, maybe there needs to be a set plan for relaxing parking rules ahead of a snow emergency in these sorts of situations. (The city did just that Wednesday morning.)
And we're betting neighborhood residents have other ideas about to make things work more smoothly -- maybe it's about which streets plows should prioritize or closing certain streets to all but local traffic so people have the space to safely clear out their cars.
Again, this is an area where public feedback could help.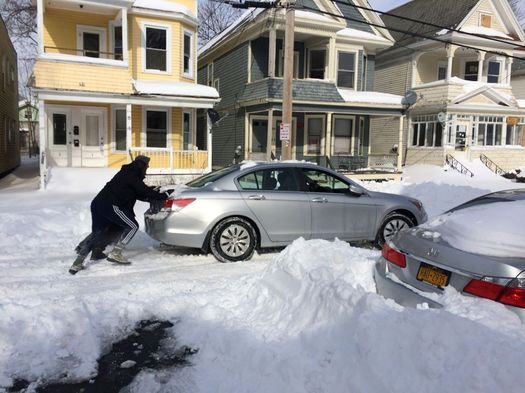 Sections of Myrtle Ave had at least 4-5 inches of snow packed down in the center of the street late Wednesday afternoon. A group of guys stopped to give this woman's car a push after it got stuck. Walking across neighborhoods that afternoon, we saw multiple people shoveling together and helping each other out. The city should be proud of that.
Embrace the cold reality
Here's the hard thing about this whole situation: When the weather dumps two feet of snow on the city in the span of a day there's virtually no scenario in which things are going to work out smoothly. There's just too much snow, too many streets, too many cars, and not enough resources. The city has something like 30-40 plows and trucks -- it's going to take a while. The best we can expect is a solid plan and a good-faith attempt to keep up.
So we all need to take a deep breath in these situations and do what we can, as individuals, to help out. As we said on Twitter Wednesday morning, events like the blizzard are opportunities to be a good neighbor: To make sure the full width of our sidewalk is cleared in a timely manner, to help get a car unstuck, to shovel out the space around the fire hydrant down the street, to use your snowblower to clear the remainder plow pile that's partially blocking the street, to check in on an elderly neighbor to see if they're OK.
We should have high expectation for our governments. But we should also have high expectations for ourselves. And that means sometimes we need to pick up a shovel and dig in.
____
More blizzard
+ Blizzard scenes from Albany
+ Map: Blizzard snow totals
+ Why is this a "blizzard" and not just a big snowstorm?
Hi there. Comments have been closed for this item. Still have something to say? Contact us.