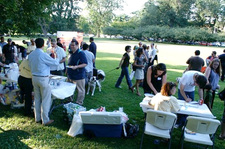 J. emails:
I'm helping to plan a company picnic for my office (approximately 200 people) and we're trying to think of new ideas for where to hold it. Last year we did it at the track which was fun but we are trying to think of something different so we aren't doing the same thing every year. In past year's we have done it at Lanthier's grove.
Our office is in Albany and we're open to anything in the Capital Region. I'm hoping maybe your readers can help us come up with some good suggestions!
On follow-up with J., her company would like to find a place that could cater the picnic, but they could arrange to have food brought in if they find a place they like without it. And they'd like to spend less than $40 per person. Also: "Doesn't necessarily have to be something where the entire family (kids) can go."
Got a suggestion for J. and her company? Please share! And a sentence or two about why're suggesting a place can be helpful.
Hi there. Comments have been closed for this item. Still have something to say? Contact us.