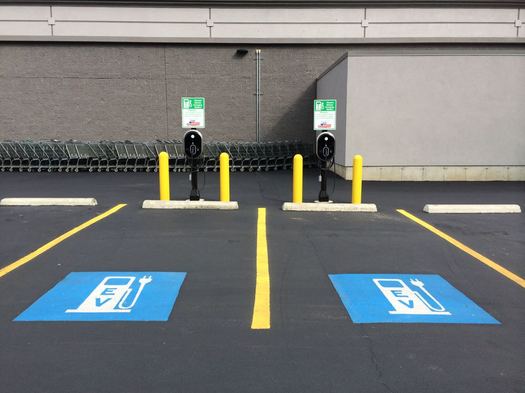 The Cuomo admin officially launched a rebate for electric cars Tuesday -- New York State will now chip in up to $2,000 for qualifying vehicles. That's on top of federal of a federal tax credit that's worth up to $7,500.
Press release blurbage:
$55 million of the Drive Clean Initiative is dedicated to rebates of up to $2,000 for purchase of a new plug-in hybrid electric car, all-electric car or hydrogen fuel cell car. In addition to the $55 million in rebates, $15 million will support improving consumer awareness of electric cars and their many benefits, installing more charging stations across the state, developing and demonstrating new electric car-enabling technologies, and other efforts to put more electric cars on New York's roadways. The initiative will be managed by the New York State Energy Research and Development Authority and will help the state achieve its goal to reduce greenhouse gas emissions 40 percent by 2030.
The rebate can be applied to more than 30 different models of vehicle, though the amount slides based on the all-electric range of the car. Also: If the vehicle is more than $60k, the rebate is just $500 regardless of range. (Let's face it, if you can afford a Tesla a rebate's probably not going to sway you.)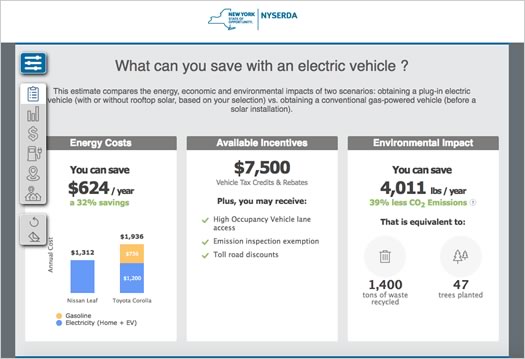 A screengrab from the online calculator.
And this was interesting: NYSERDA has put together an online calculator that attempts to estimate how whether buying an electric vehicle makes sense for someone versus a traditional gasoline-powered car -- both in terms of functionality and cost. The calculator asks questions about the type of car you're interested in, how far you drive, a typical electric bill, even whether you might be considering solar panels.
Also, as the blurb mentions, there's a recent an effort to get more charging stations installed. Here's a map of stations around the state.
The number of electric vehicles sold in the United States has been a sharp upswing in recent years. But they still make up a very tiny slice of the overall car sales pie. [Record] [LA Times]
And New York is sort of swimming against the tide with this rebate. As the New York Times reported earlier this month, there's been a push in many states lately to roll back incentives for electric cars and tack on additional registration fees because electric drivers don't pay gasoline taxes. [NYT]
Hi there. Comments have been closed for this item. Still have something to say? Contact us.