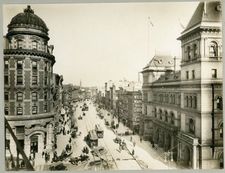 Dave emails:
I live in Albany in a craftsman style home circa 1911, and would like to add some historic Albany photos as decor in my home. I've heard there are free archives of photos that can be obtained somewhere online? Any ideas where/how I could find some photos?
There's been a boom in online collections of historical photos over the past decade, with sites such as New York Heritage working with local organizations to digitize and post thousands of images.
The thing is that often the rights issues around these images are a little murky. Some collections -- such as the New York Public Library -- make it explicit which images are in the public domain. Others allow them to used for educational purposes, but require written permission for other uses. Others leave things kind of vague. (Some works are in the public domain because of when they were published.)
It's also worth mentioning that there are places to sell local historical photos -- example: At The Warehouse/Silver Fox Salvage in Albany usually has a large of selection.
So, all that said, got an idea or suggestion for Dave? (Or maybe even idea for how local orgs could make it easy for people buy copies of historical photos in their collections?) Please share!
photo via Albany Public Library - Pruyn Collection of Albany History
Hi there. Comments have been closed for this item. Still have something to say? Contact us.