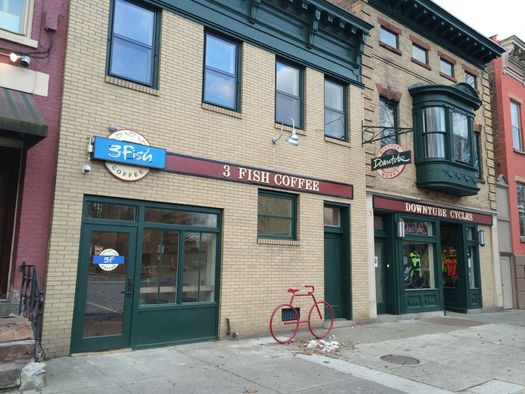 Quick updates on a couple of Lark Street-area storefronts...
3Fish Coffee
The new cafe next to the Downtube on Madison Ave across from Washington Park -- 3Fish Coffee -- has its grand opening this Friday-Sunday. It's run by Emma Fullem, daughter of the owners of the landmark bike shop, and the family was prompted to open the cafe by the fire that significantly damaged the building two years ago. The weekend will be a "grand (re)opening" for both businesses.
There's a pop-up art show with music Friday evening, and yoga, coffee, and bike activities on Saturday and Sunday.

288 Lark Street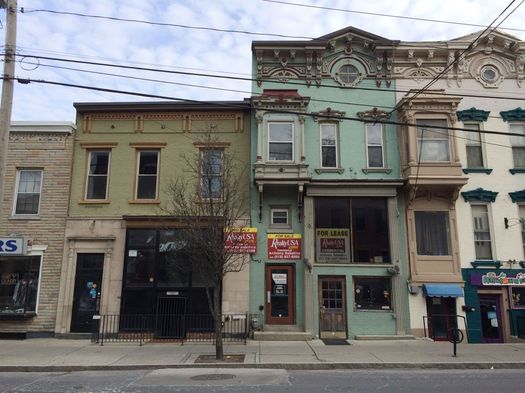 That's 286 Lark Street on the left and 288 Lark Street on the right.
The proposed renovation of 288 Lark Street was approved for a tavern variance by the Albany Board of Zoning Appeals this week, allowing operation until 2 am. The owners of Mercato's and Extra Napkin in Delmar -- brothers Ali and Ayhan Celik -- are planning to open a wine and craft beer bar on the first level called 288 Lark Wine & Tap. It would also serve light fare such as sandwiches, soups, and salads.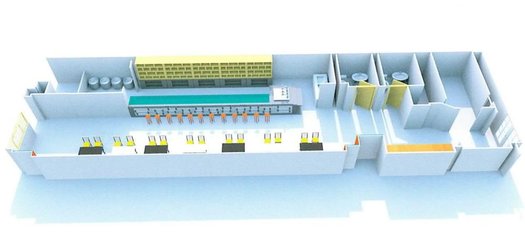 A proposed interior plan for the tavern from the project's BZA app. (Click the image for a larger version.)
The Celiks plan to use the second floor for either commercial space or an apartment, and the third floor as an apartment. The building formerly housed DeJohn's. It's been vacant for a few years.
Bill Allen, who's serving as a consultant on the project, said the Celiks are working to schedule a closing on the property and sort through the historic tax credit possibilities. He said they'd like to be open at 288 Lark sometime this summer.
The Celiks also have plans to open an Italian restaurant next door at 286 Lark on both floors there. That plan surfaced during the recent introduction of the final draft of Rezone Albany -- the city cited it as an example of how the new rules would make such redevelopment easier. And Allen said they'll be looking to move ahead on that after Rezone is adopted.
Hi there. Comments have been closed for this item. Still have something to say? Contact us.