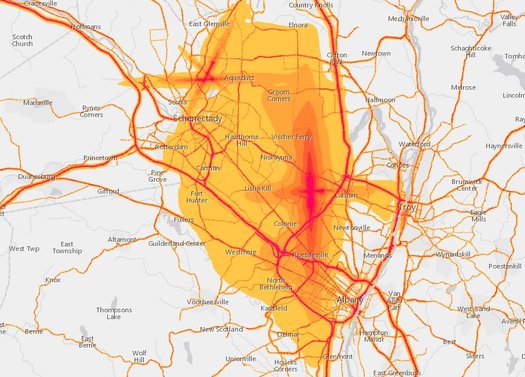 That image above is clipped from a new map produced by the federal government that attempts to model road and airplane noise around the country. Here's the clickable, interactive version.
The map colors depict estimated 24-hour sound level averages. The light yellow is about the noise level of a humming refrigerator. The magenta colors are something more like a vacuum cleaner.
You can probably guess what that cross-shaped, magenta pattern is in the middle: Albany International Airport. And if anything, for us, looking at the map both locally and across the nation highlighted the wide-ranging noise effects of airports. Those "smears" of noise along the approach and take-off paths for ALB really stick out. (And having lived inside one of those zones, yep, you definitely hear the planes as they land, especially in the summer with the windows open.)
[via NPR]
map clip: US Bureau of Transportation Statistics
Hi there. Comments have been closed for this item. Still have something to say? Contact us.