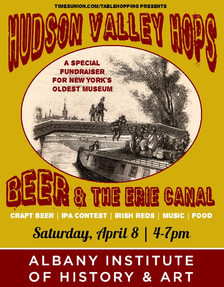 The Hudson Valley Hops event is back at the Albany Institute April 8. Tickets are $35 ahead and available online.
The annual event celebrates the history of brewing in the Hudson Valley, and this year has an Erie Canal theme. There will be tastings, a local IPA blind taste test, and special Irish Red Ales from Chatham Brewing and local craft beer pioneer Bill Newman in collaboration with Brown's.
Local brewing artifacts will also be on display.
Here's the list of participating breweries...
Argyle Brewing Co.
Brown's Brewing Company
Chatham Brewing
CH Evans
Green Wolf Brewing Company
Rare Form Brewing Company
Rip Van Winkle Brewery
Shmaltz Brewing
S&S Brewery
The Beer Diviner