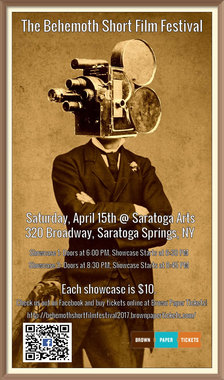 The Behemoth Short Film Festival returns to the Saratoga Arts Center April 15. Blurbage:
The Behemoth Short Film Festival showcases some of the very best in up and coming cinematic talent from around the world. From horror to sci-fi, comedy to drama, The Behemoth Short Film Festivals goal is to bring unique voices to new viewers and broaden the audiences horizon by delivering something different.
The festival includes two slates of films. Explained organizer Shane Frasier in a post on the festival Facebook page:
The first showcase will be more of a general audience showcase (around a PG-13 rating, roughly), so parents/teens should plan accordingly. Also, our later showcase (which we've dubbed EXTREMEOTH) will be a little more adult (showcasing more horror, action, language, etc.)
That first showcase is at 6:30 pm on Saturday, April 15 and the second is at 8:45 pm. Tickets are $10 for each and available online.