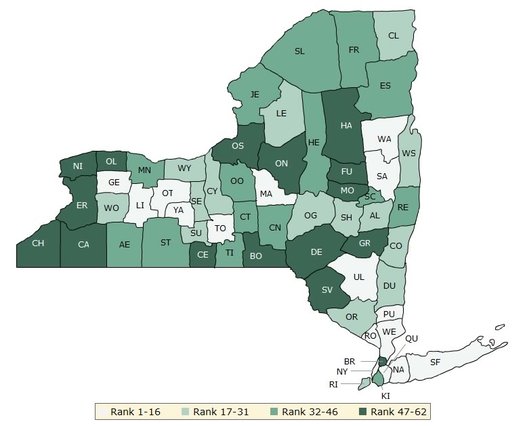 Saratoga County is the "healthiest" county in the New York State, according to rankings out this week from the Robert Wood Johnson Foundation. Specifically, Saratoga ranked #1 in health outcomes -- "how long people live and how healthy people feel while alive."
The rankings also look at factors that feed into health, and Saratoga ranked #3 overall for those.
Here's how the Capital Region core counties stacked up compared to to Saratoga and each other.

Saratoga County's top spot isn't surprising. In fact, it'd be surprising if it wasn't near the top. The county ranks highly compared to other counties in the state for characteristics that are often associated with good health outcomes -- median income* (7th highest), income level for the 20th percentile (4th highest), child poverty (3rd lowest rate), and education (3rd highest for population with some college).
If anything, the question we had when picking over the rankings was why the rest of the Capital Region hasn't done better. Albany County ranks relatively well in all those aforementioned categories, yet its outcome rank was #28. Rensselaer was #36, and Schenectady was just #44 -- both well below where you might guess based on those categories.
It's maybe even more surprising when you consider the concentrations of health care facilities we have this in area.
So, good for Saratoga County. But there's more work to be done as a region.
The RWJF site posts the data that goes into the rankings, and it's helpfully gathered up in one spreadsheet if you'd like to look through it.
* The top five counties the health outcome rankings are within in the top seven for median income.