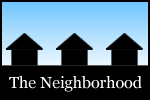 Among the topics in this most recent spin around the Capital Region's online neighborhood: hope and optimism, forming a new bond, parking around Lark Street, college applications, weather grumbling, the Albany Great Flood of 1913, die Heilige Kreuz Gemeinde, old downtown, Worcester, the wine and chocolate festival, winter bites, takeout, cilantro haters, Mrs. Fearnow, and punks.

Amy on living with hope -- but not with optimism.
Randal on the sometimes winding path toward forming a new bond.
Silvia called for better coordination of parking resources around Lark Street.
Katie got a peek into the college application process.
Jackie looked for some perspective on weather grumbling.
The Friends of Albany History recalled the Albany Great Flood of March 1913 -- and the water department's effort to protect public health.
Christopher laid out of the history of die Heilige Kreuz Gemeinde in Albany.
Chuck had some questions about an old downtown Albany photo.
Crystal spent ventured to Worcester a two-day trip.
Zena had a hit-and-miss experience at the Wine and Chocolate Festival at the Desmond.
J+R shared their favorite winter bites.
Daniel lined up a bunch of photos recent dishes he's tried at local restaurants.
Melinda got takeout from Timmy's Chinese.
Ashley checked out the remodeled Forno Bistro.
Steve was not impressed with one of the Downtown Albany Restaurant Week offerings.
Steve N.: "Shame on you cilantro haters. You're ruining it for the rest of us."
Mr. Dave popped open a can of Mrs. Fearnow's Brunswick Stew with Chicken.
And Rob on punks, young and old.