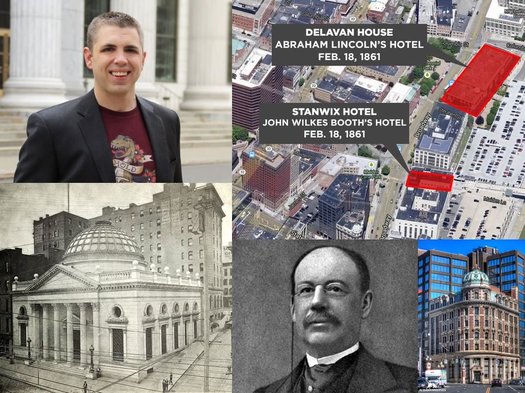 Our all-time favorite local Twitter account might be Albany Archives. For years Matt Malette -- no longer anonymous! -- has shared all sorts of interesting bits of local history, often with a cheeky wit.
This Sunday he'll be at the Albany Institute for a talk about local history and how he goes about digging up stuff for Albany Archives.
So we thought it'd be fun to play a game of Five Favorites with Matt about local history...
Who's your favorite Albany historical figure?
This is a two-pronged question for me since we're the capital of the state and historical figures from Albany can be focused on both local and state, at least in the land of politics.
On a state level, my favorite Albany historical figure would be Sir DeWitt Clinton. Sir? Yes, I knighted him. The idea of an Erie Canal sounds fairly lackluster now but at the beginning of the 19th century it was pretty bonkers. There was a much greater chance of failure than any reward, and as we know the canal beat the odds and not only was New York better for it but the entire country was, too. It changed our nation's entire face of commerce. It's just sad that he died abruptly and penniless, never really getting his due.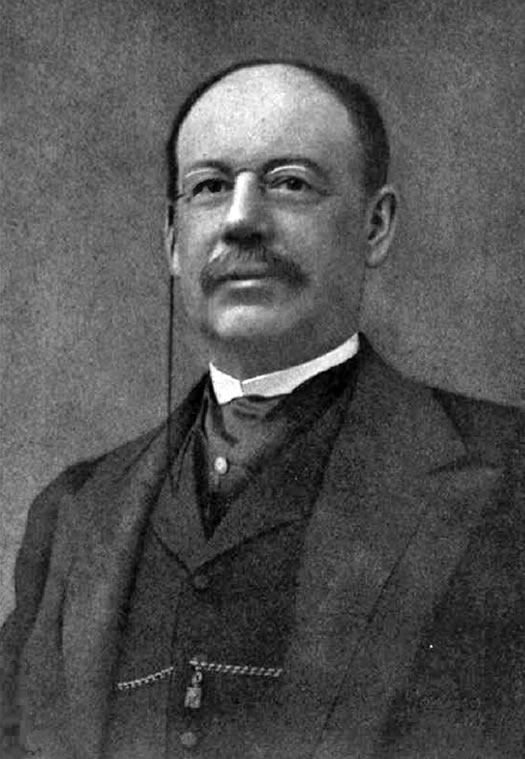 John Boyd Thacher / image via Wikipedia
On a local level, it would probably be John Boyd Thacher, the former mayor and state Senator (and yes, the dude our state park is named for). He was a total nerd and he didn't care. Big into history. Big into collecting autographs. He may have come from a relatively wealthy upbringing but he was constantly working and never rested on his laurels. There are a lot of people that loved Albany, but very few more than Thacher did. He was also ahead of his time. He was big into land conservation (among other things) in a time when it wasn't the most popular idea around.
How there isn't a statue of him anywhere in the city is beyond me. Clinton at least has a square bearing his name.
What's your favorite Albany historical story or tale?
This is like asking what someone's favorite song is. Everyone has an all time favorite song, but then they'll also say they have a favorite of "right now".
What's even more ironic, Booth and Lincoln were only staying a block apart on Broadway. JW was living at the Stanwix. pic.twitter.com/I0CnkMENKI

— Albany Archives (@AlbanyArchives) February 18, 2015
Overall it's has to be Abraham Lincoln's 1861 visit just because of how that visit would eventually play out in the grander scheme of our country. [John Wilkes Booth was here that same day.]
But right now I've been slowly (very slowly) working on a story about the location of the Van Rensselaer Manor. Here's the quick and dirty: The mansion was built in 1765, about the same time as Schuyler Mansion, and sat essentially where Nipper the dog is perched now. In the 1890s the mansion was deconstructed and rebuilt on the campus of Williams College in Williamstown. Van Rensselaer Manor was a part of their scenery until the 1970s when it was demolished for their new library. The exterior of the house was then sold to a Capital Region doctor who moved it into his barn with the hope to rebuild it somewhere in Albany.
It never happened and now somewhere in the Capital Region (hopefully) is one of Albany's most famous mansions just sitting in a barn. I really want to know where it is. That's a great story.
What's your favorite Albany building (still standing)?
Man, there are a lot, but if I had a gun to my head, probably the Albany Trust Building at the corner of State and Broadway. [It's now the offices of the SUNY Research Foundation] It's not that old of a building in the grand scheme of Albany buildings (1904), but it's not something you'd really see in any other city. It's unique shape with the rounded front, the cool dome on top, all the ornamentation, and even the color of the brick they chose. It's not every day you see a building that has brick with a pinkish hue.
It's a very cool building that makes me stop and look at it any time I go by it.
What's your favorite Albany building (no longer standing)?
This is a tough call. The old armory/school in what's now the Warehouse District was a pretty cool looking building. The same could be said for the Staats House and the Old Dutch Church from a purely historical standpoint.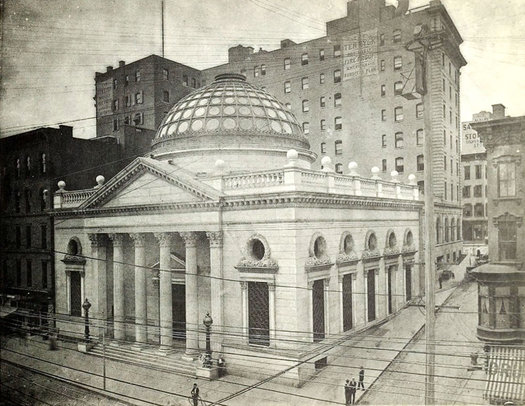 Right now, at least for today, I'd have to say the old Albany Savings Bank at the corner of North Pearl Street and Maiden Lane. Apparently I have a penchant for early 20th century banks with domes.
You have a time machine. Which time period in Albany history do you think would be your favorite to visit?
Albany during the Victorian Era would be a nice time to visit.
Could you imagine walking the Center Square neighborhood and having all of those homes new? You'd have the chance to meet and chat with all of the home's first owners. Having the opportunity to watch the construction of the State Capitol firsthand; to see ALL of the breweries that were scattered all over the city. There was a lot of building and rebuilding in Albany during that time and it would be really fun to see that. Imagine wandering down our city streets and seeing a lot of those old dilapidated buildings today in their prime having a purpose?
Of course the same holds true for the other end of the spectrum, too. Squalor was a very real thing in Albany at that time, and while it would be terrible to see, it would give a greater idea of what poverty in Albany really looked like then. That whole side of Albany has really only been seen in glimpses in photographs and books. Much of it was swept under the rug and that's too bad.
But to answer the question, Albany's Victorian Era... the good and the bad.
These answers have been lightly edited.
____
Matt Malette will be at the Albany Institute April 2 at 2 pm for a talk about Albany Archives. It's free with museum admission.
Say Something!
We'd really like you to take part in the conversation here at All Over Albany. But we do have a few rules here. Don't worry, they're easy. The first: be kind. The second: treat everyone else with the same respect you'd like to see in return. Cool? Great, post away. Comments are moderated so it might take a little while for your comment to show up. Thanks for being patient.