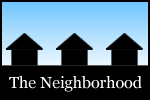 Among the topics in this most recent spin around the Capital Region's online neighborhood: a new plot of land, Richard Nixon in Albany, Rensselaer Churchill, early wildflowers, spring, half a rhubarb plant, a surprise wedding in Troy, tarot cards and career and pizza, Velveeta fudge, Watervliet, brunch, the Chuckwagon, and not getting over the death of a loved one.

Chuck has moved his blog to his own piece of online land* after many years on the TU's website -- a switch prompted by the media org suspending his blog there over an April Fool's post. Rob and Silvia had some thoughts about how that situation was handled.
A few people have asked us our thoughts about what happened there. We'll just say this: Platforms -- whether it's Facebook, Twitter, Youtube, a media org like Hearst, or whatever -- will always act in ways they believe are in their own interests. Being a loyal/longtime/super user won't protect you if the platform decides its interests don't line up with yours. Is the potential reward of the reach offered by a platform worth that risk? Maybe sometimes it is. But if you're building something, it's often better to do so on a plot of (virtual) land that you have some control over rather than one that can be pulled out from under you.
98 Acres recalled the time Richard Nixon campaign in Albany with an enthusiastic Nelson Rockefeller.
Carl told the story of one of Albany's earlier photographers -- and all-time great names -- Rensselaer Churchill.
Jackie on the joy in coming across one of the season's earliest wildflowers.
The Bee Balm Gal noticed the very early signs of spring.
Randal helped fix a gate at the dog park -- and got half a rhubarb plant.
Jona shared a bunch of details from her surprise wedding in Troy.
Jon got a tarot card reading and thought through whether he should leave his job to make pizza full time.
Mr. Dave's "The Church Cookbooks of New York" series continued continued with... Velveeta fudge.
Dominic on the rigors of the restaurant business -- and what he misses (and doesn't) about Saratoga.
Daniel listed some of his favorite spots in Watervliet.
Ashley: "Max London's has just demolished the brunch scene in Saratoga."
The Traveling Brunchers stopped at the Chuckwagon Diner in Duanesburg.
And Amy on how you never really "get over" the death of a loved one.
Hi there. Comments have been closed for this item. Still have something to say? Contact us.