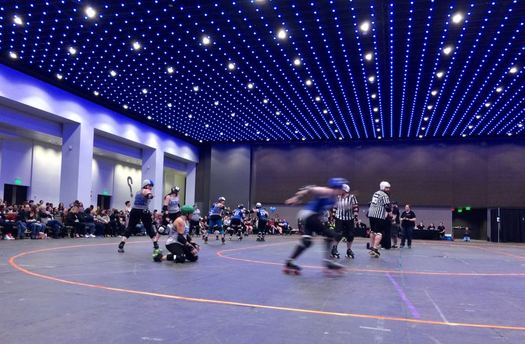 A quick pic follow-up to that post about the Albany All Stars moving their games to the Albany Capital Center. That's a pic above from the season opener Saturday night, in which the All Stars lost to Port City. Here are a few more in large format.
The roller derby was in the large multi-purpose space on the second floor of the new convention center. The track was on a hard surface laid atop the carpet there, with spectator seating on two sides, the benches on another, and the announcers and scoreboard along the other.
It looked like there might be a few kinks to work out for using the space. During halftime members of the crowd helped push the interlocking pieces of the track surface back together. And if it's possible to get more elevated seating in there, it'd probably help sight lines. (There was a good crowd Saturday night -- pretty much all the seating was filled.) But it was the first night and anything new is going to have a learning curve.
AASRD has a game a month at the ACC through October. The next one is May 6.
Hi there. Comments have been closed for this item. Still have something to say? Contact us.