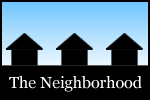 Among the topics in this most recent spin around the Capital Region's online neighborhood: feeling deeply, melon tweaking, women-owned businesses, budgeting, Queen Beatrix's return, animal dentistry, the church that was in a factory, the floral floodgates, Good Friday at the cathedral, a cat cafe, local spirits, and the Spirit of Life.

Christine noted how her perception of the world -- and the things she feels -- have changed since becoming a parent.
Jon's melon has been tweaked by a few things lately.
Greg K listed the many women-owned businesses in Troy.
Jona walked through her budget.
98 Acres recalled Queen Beatrix's return to Albany, and her role in the creation of story of the Empire State Plaza.
Carl highlighted an ad for a late 19th century Albany veterinarian -- whose reference was a brewery.
Christopher detailed the history of the Albany Catholic parish whose first church location was a factory.
Anna spent Good Friday at the Cathedral of All Saints, and Stacks, and Albany Center Gallery.
Jackie hailed the opening of the floral floodgates.
Melinda visited a cat cafe in Red Hook.
Daniel recapped the results of a competition in which local bartenders created drinks from locally-produced spirits.
And Chuck made the Spirit of Life come alive.