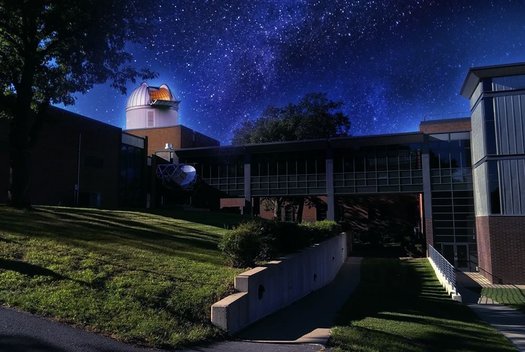 Something to watch for: Siena is building a new observatory that it says will house the area's largest telescope. Work is scheduled to start this summer on the college's Loudonville campus and it's aiming for the telescope to be up and running this fall.
Press release blurbage:
The permanently-mounted telescope will be housed in a 16-foot structure atop Roger Bacon Hall, topped by a rotating dome with a retractable opening. The telescope will feature a 27-inch diameter mirror that can be remotely controlled via the internet.
The telescope will allow eyepiece observing of such favorites as the moons of Jupiter and Saturn's rings, and will have sophisticated imaging that will be used to track near-Earth asteroids and to follow the fading light of exploding stars, according to [physics professor] Dr. [Rose] Finn. In addition, a spectrograph will allow for analysis of the chemical composition of stars, nebulae and galaxies.
The observatory won't be used by just physics and astrophysics faculty and students - Dr. Finn said that more than 30 percent of Siena students take Introduction to Astronomy as a liberal arts elective, and they will be able to use the telescope as well.
Students and faculty will use the observatory for their coursework and research, and public observing sessions will be held throughout the year.
Siena got a $467,402 grant for the project from a foundation.
Other observatories
Two other observatories in the area:
+ The Dudley Observatory at miSci, which hosts all sorts of events and classes, including star parties with telescopes. (See also its blog)
+ The Hirsch Observatory at RPI often offers public viewing sessions on Saturday nights.
image via Siena

Hi there. Comments have been closed for this item. Still have something to say? Contact us.