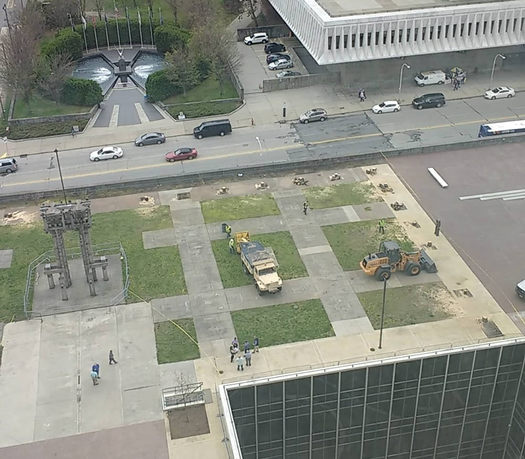 James tagged us on Twitter today after noticing that a crew had taken down the trees in the southeast corner of the Empire State Plaza. (That's his pic above.) It's the corner where the labyrinth usually stands. He was wondering what was up because the scene was now looking... sparse.
The trees -- maples -- had contracted a disease called verticillium wilt, according to Heather Groll, the communications director for the state's Office of General Services. She said via email they're being replaced with "some lovely red oaks" and the new trees will be in place later this spring.
The labyrinth
As mentioned, that corner is where the wooden labyrinth by Francois Stahly usually stands. The structure had been in bad shape in recent years and OGS decided that on-site repairs weren't enough. So pieces of the art/playground were shipped off to Vermont in the fall of 2015 for restoration -- here's a Paul Grondahl article about the process. Groll said Thursday she didn't have a timeline for its return.
Hi there. Comments have been closed for this item. Still have something to say? Contact us.