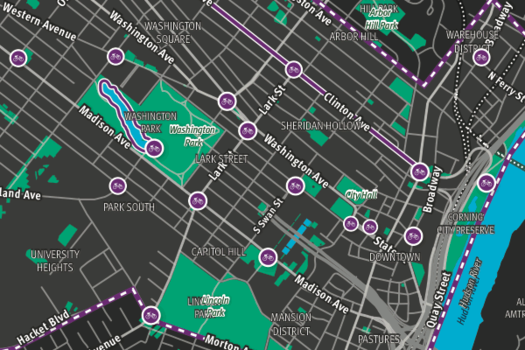 The new bike share that CDTA is launching later this summer -- CDPHP Cycle -- is now one step closer to starting up: The transit org has announced the locations of the stations for the bike share.
So let's have a look...
Look up
Maps are at the top in large format -- click or scroll all the way up.
A few bits
There are 38 bike stations in all, spread across the four core cities of the region:
+ Albany: 20
+ Schenectady: 7
+ Troy: 7
+ Saratoga Springs: 4
CDTA asked for suggested locations via a public survey earlier this year, and the org says it used those suggestions along with factors such such population density and the existence of existing bike infrastructure to make the selections.
There will be 160 bikes distributed across the stations. The program is using bikes and tech from a company called Social Bicycles, which runs bike shares in many cities around the country. The second phase of the program next year will include additional stations.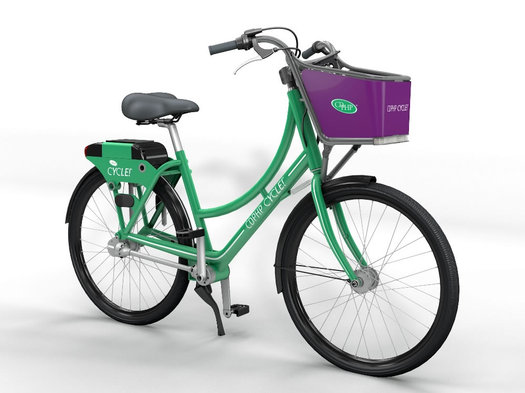 What the bike share bikes will look like. / image via CDTA
One of the goals of the bike share is to provide a different transportation option around the nodes of CDTA's existing bus network and also within downtown areas, as CDTA mobility manager Lauren Bailey explained earlier this year. So, for example, maybe a person takes a bus into downtown Albany and then later hops on a bike share bike to ride up to the Warehouse District.
This idea of providing options within the region's urban center seems to be something CDTA has been giving thought to lately. Last week at the announcement of the new Capital City Shuttle service for Albany, CDTA executive director Carm Basile said the shuttle had grown out of thinking about how to provide "connector-type" service within the city.
At that same event, Basile said the bike share was still planned to start later this summer. And the docking stations -- the locations of which were announced today -- will start showing up in a few weeks.
Background
Here's more background and details on the bike share project from this past spring.
____
CDTA and CDPHP advertise on AOA.
Hi there. Comments have been closed for this item. Still have something to say? Contact us.