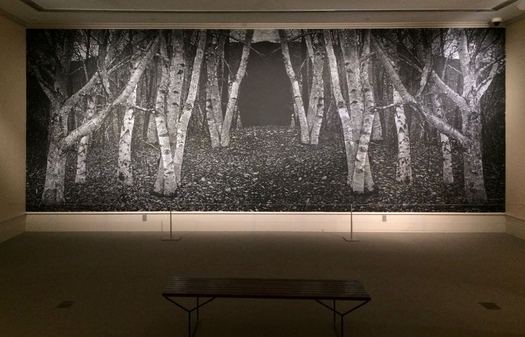 The 2017 Exhibition by Artists of the Mohawk-Hudson Region opens this weekend at the Albany Institute. The annual exhibit is now in its 81st year and it's said to be the longest running annual juried exhibition in the country. It's open to artists living within 100 miles of Albany and Glens Falls.
The exhibit includes 87 works from 32 artists. They were selected by this year's juror -- Jack Shear, a photographer, curator, and president of the Ellsworth Kelly Foundation -- from a pool of 600 works submitted by 268 artists. The pieces range from paintings to sculptures to mixed-media works.
The annual exhibit rotates among the The Hyde Collection, the University Art Museum at UAlbany, and the Albany Institute. Each year the institutions acquire pieces from the exhibit for their collections. The Albany Institute has put on display some of the works it's acquired over the years at the head of this year's exhibit.
When you stop by for a look, also wander through the institute's adjacent gallery of 19th century sculpture. Shear has directed a temporary re-installation of the pieces there to provide a different perspective on them.
The 2017 Exhibition by Artists of the Mohawk-Hudson Region is on display at the Albany Institute through September 3. There opening ceremony and awards reception was Friday evening. And there's a series of gallery talks with some of the artists throughout the summer. That schedule is below.
Gallery talks
Talks are at 6 pm.
July 7
Susan Berger
Janet Cooper
Kerry Furlani
Tom Santelli
Laura Christensen
Jeanne Finley
August 4
Richard Garrison
Paul Sattler
Mame Kennedy
George Dirolf
September 1
Emily Dorr
Victoria Palermo
Barbara Todd
Paul Mauren
Jane Bloodgood-Abrams
Tatana Kellner