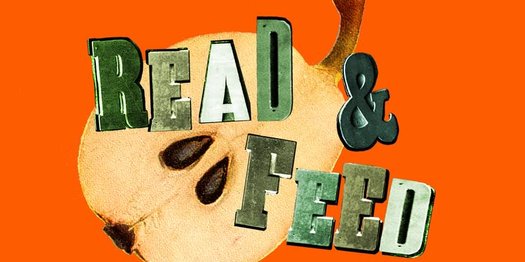 The literature and food event READ & FEED returns to Basilica Hudson Sunday, July 23. Event blurbage:
The festival includes a celebration of legendary Hudson-based poet John Ashbery's 90th birthday, acclaimed food writers and chefs presenting demonstrations and interactive discussions, a superstar collection of authors offering literary performances and novel conversations, a marketplace featuring some of America's most intriguing small literary publishers and artisanal food makers, plenty of affordable food and much more.
Tickets are on sale now -- they're $15 / $10 students and seniors.
Among the events:
+ Whiting Award-winning poetry superstars Simone White and LaTasha N. Nevada Diggs performing and talking poetry, food and music, while cooking up collard greens & salmon cakes
+ A multimedia talk on poetry and public art by poet, Rain Taxi publisher, and book festival director Eric Lorberer, formerly presented at The Walker Art Center and elsewhere
+ The READ & FEED return of celebrated cookbook author and restaurateur Rozanne Gold, in conversation with literary chefs Rohan Kamicheril, Matt Lee, Susan Simon and Lukas Volger, who will talk food, memory and the senses, while audience members find out if they are supertasters.
+ Cooking masterclasses from "Barb the Butcher" (Barbara Fisher), teaching attendees how to make sausages, and Rohan Kamicheril, making a tantalizing South Indian pounded rice delicacy
+ A private Weepy Booth in association with the much-loved Crybabies podcast, in which presenters Sarah Thyre and Susan Orlean and special guests regale listeners with the things that make us teary, presented in the intimate setting of Basilica's Buddha Booth