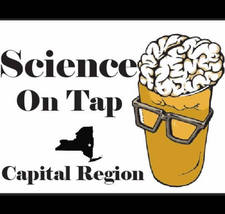 The local drink-and-discuss series Science on Tap is still rolling along after starting up this past February. The next talk is Tuesday, June 27 at MopCo in Schenectady. The topic: "The Riddle of the Invisible Dark Matter":
We are sure that it exists! Searches for this mysterious "dark matter" have gone on for decades, but discovery still eludes us. Please join Dr. Matthew Szydagis, Assistant Professor of Physics at UAlbany, at MOPCO Theatre where he will discuss the status of these searches.
The talk starts at 7 pm and admission is free.
Science on Tap is a monthly series aimed at providing opportunities for conversation between scientist and the general public. Previous talks have focused on solar eclipses, conservation, and "how to smell bullshit."