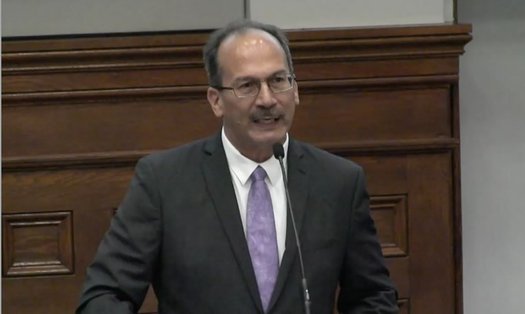 The next president of the University at Albany is Havidán Rodríguez. The SUNY Board of Trustees approved his appointment to the position at its meeting Wednesday afternoon. He'll start in September.
Rodríguez has been serving as the provost (the top academic administrator) at the University of Texas Rio Grande Valley, an institution that was formed in 2015 from the merger of two other UT institutions. He had served as provost and interim president for one of those institutions, the University of Texas-Pan American. Other stops in his career include the University of Delaware and the University of Puerto Rico-Mayagüez.
In introducing Rodríguez Wednesday, SEFCU CEO Michael Castellana -- who chaired the search committee -- said his selection was unanimous: "He is going to bring that university outside of its walls and he's going transform this area."
Said Rodríguez in a short speech following his appointment:
One of our goals is to increase the visibility, the reach, the impact of the University at Albany, not only at the local, but at the state, national, and global levels as well. Community engagement will be a critical component for the success of the University at Albany, with a focus on building partnerships and creating communities throughout the state and beyond. Collaboration, communication, and coordination at all levels will be a key feature of the University at Albany.
Excellence, diversity, and inclusion will continue to be critical elements that will guide us and impact every decision that we make at our institution.
Rodríguez is a sociologist with a PhD from the University of Wisconsin-Madison. His research has focused on how people prepare and respond to disasters such as hurricanes and the economic wellbeing of minority populations.
Earlier this year Rodríguez was also a final-three candidate for the top job at the University of Colorado-Colorado Springs.
Havidán Rodríguez succeeds Robert Jones, who left last year to become chancellor of the University of Illinois at Urbana-Champaign.
James Stellar has been serving as interim president, and had expressed interest in the permanent job after starting to serve -- with the apparent support of some students and alumni. But as the interim president he was prohibited from being considered.
Rodríguez will receive a salary of $525,000 per year, with a $60,000 housing allowance. He'll also have the option of using a university vehicle or getting an $800/month automobile allowance.