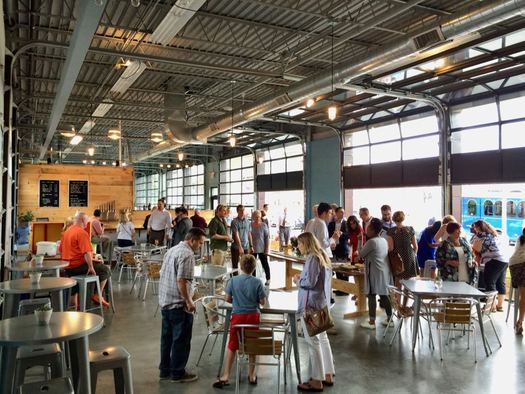 Every month it seems like there's a new brewery somewhere around the region. And one of the most recent is Great Flats Brewing in Schenectady.
The brewery opened three months downtown, and this Thursday had its official ribbon cutting.
Here's a look around the brewery space, along with a few bits about what's going on there.

Pics
Look up, they're at the top in large format -- click or scroll all the way up.
Who's involved
The two partners at the forefront of Great Flats Brewing are cousins Harry Whalen and Tom Owens.
"Tom is a brewer, self taught, and has been brewing for a long time," Whalen said at the ribbon cutting. "And about two years, we started taking this seriously, and decided, let's do this. As he joked, we decided to go pro."
The brewery
Great Flats Brewing is at 151 Lafayette Street in Schenectady, a block off State Street. It's open Wednesday through Friday 4-10 pm, Saturday noon-10 pm, and Sunday noon-8 pm.
The brewery is in a converted tire service building, so the space has big windows/working garage doors along the entire length. There's a tasting room/event space on end, and the brewery equipment takes up the other.
Whalen said the old service center space ended up working out remarkably well as brewery space because it had a sturdy, level floor and enabled easy access for loading equipment.
"It's made for access," he said of the space. "All the doors are glass, you can see right in there, we could get our tanks in. It checked all the boxes off."
The beer
Great Flats opened with three beers on tap, and on Thursday they were up to seven.
"We do American-style ales," Whalen said. "We do a bunch of IPAs, but we are experimenting with some other beers. We just had a Belgian saison come out, we brewed it with Capoccia Wine Lounge down the street. So we're definitely working with other local producers."
For this Schenectady Summer Night on July 14, Whalen said they've brewed Golden Ale in collaboration with Mad Jack Brewing and Wolf Hollow -- the other two current breweries in Schenectady County. Each brewery has produced a batch, but with a different type of hops so people will be able to sample the three version to get a sense of how the hops influence the flavor of the beer.
The brewery also makes a root beer sweetened with maple syrup.
The name
Great Flats? It's named after the aquifer the runs under Schenectady County and provides drinking water for municipalities there.
"We need water for beer," Whalen said. "And we need good, clean water with the right minerals and the aquifer's got it."
Find It
Great Flats Brewing
151 Lafayette Street
Schenectady, NY 12305
Hi there. Comments have been closed for this item. Still have something to say? Contact us.