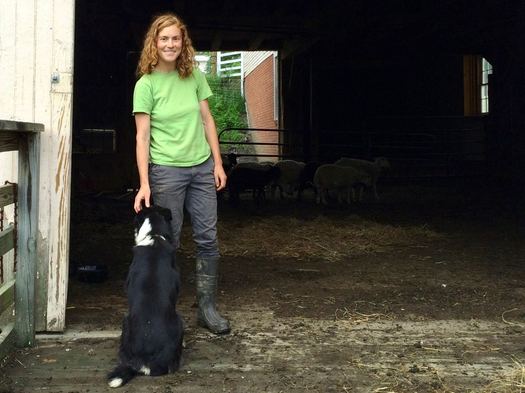 AOA is on summer break this week. So we'll have new follow-ups this week with people we've met and covered during the last year.
We first met Melissa Parade as part of the AOA Startup Grant contest last fall. She's been working to start a farm and community programs at the Tivoli Lake Preserve in Albany.
In the time since, she's assembled a herd a sheep that she's been keeping at Albany's Normanskill Farm. And in just a few weeks they'll be making the move over to Tivoli as The Farm on Peaceable Pastures.
We met up with Melissa at a barn just up hill from the Normans Kill last week to talk about the challenges of becoming a farmer, shaping a business plan, and the occasional errant sheep.
How have things gone since last fall?
They've progressed, I guess, sort of predictably. Lambs were born. The project in Tivoli is moving forward. The pacing is, sort as as you would expect for a city project where there are a lot of departments involved -- I'm learning a lot working with them.
And [I'm] closer to developing a business model for it. And I've come to see the importance of developing a business model alongside the community efforts so one can support the other. That model is geared toward contract grazing. So the service that we're providing for the city is a grazing service, so I'm looking to expand the client base for that -- and sell meat and sell eggs -- but the primary service provided by the business being grazing.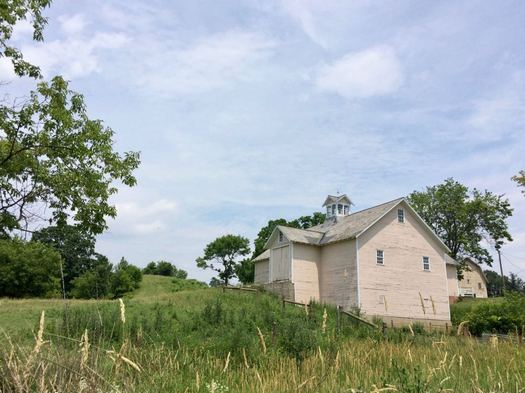 What sorts of challenges have you encountered in that time?
The biggest challenge has been the challenge faced by all beginning farmers which is that your enterprise is not profitable to begin with. So the biggest challenge has really been how to keep up with the farm work -- and, that's what I love doing, I want to be doing that -- but at the same time having enough energy to get into a part time job and finding the right part time job and it's been a little bit of this and a little bit of that. I'd definitely say that's been the most challenging. Because at the same time you want to be seeing your friends and seeing your family.
There's been some tricky physical challenges that, to be honest, have been fun to confront, as far as shearing sheep for the first time when you don't have an electric shearer is a challenge -- but it's a lot of fun. I enjoy the challenges, so that helps.
Is there a significant lesson that you've learned?
Oh my gosh, so many! (laughs) A million. I guess the two most of the important being: things are going to go the way they're going to go. Letting go and not trying to dictate or control a situation with animals. They've got minds of their own. That applies more broadly, but it's just easier to see when thinking about animals.
And then also I've learned to really keep my eyes and my ears open for help. I've learned to see when help is available and accept it, which goes a long way.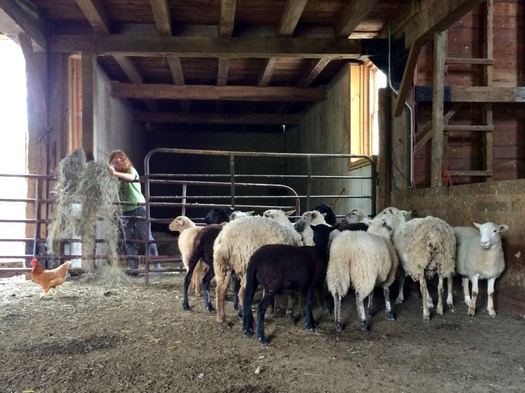 Is there a frustration that you've encountered that if you could wipe it away, it'd be like, wow, things are a lot different?
Yes. (laughs) The assumption of scarcity and the perspective that you sort of need to take and hold for yourself, I find that to be a huge barrier, not just in farming but in a lot of contexts. And farming is probably more progressive on that than other industries. But, you know, everybody's project, livelihood, health improves when we work together and share our resources rather than hiding them because we feel there's not enough to go around.
What's something that felt like a win?
The most recent moment of that was yesterday morning when I showed up here and the sheep were out -- and they should be in the barn in the morning. One of the male lambs had gotten out from the pen and was in with the rest of the herd and one of the female lambs was down in the hay loft below. I don't know how she got down there -- it's a huge drop. So it was a good feeling when I righted that situation. That was a good feeling of win.
Otherwise, more broadly... renewing the contract with the city this year with my name on the contract and my voice in the allocation of the funds and the services provided and just really feeling ownership of that. That was a good feeling.
What's next?
Next is moving into Tivoli -- actually, moving to the [Albany] airport first [for the sheep to graze as part of a demo for the Grassfed Exchange], and then moving into Tivoli -- all within the next two to three weeks. Building the team at Tivoli. So over the last couple of weeks I've put out a call for a part-time employee and some volunteers to help organize what's going on there. And business filings.
Those are the four things on my mind: Tivoli, the airport, Tivoli people, and business filings.
It's going to be a busy summer, but a good summer.
This interview has been edited and condensed.
____
More follow-ups
+ Follow up: Sunhee's Farm and Kitchen
+ Follow up: Berben and Wolff's
Say Something!
We'd really like you to take part in the conversation here at All Over Albany. But we do have a few rules here. Don't worry, they're easy. The first: be kind. The second: treat everyone else with the same respect you'd like to see in return. Cool? Great, post away. Comments are moderated so it might take a little while for your comment to show up. Thanks for being patient.