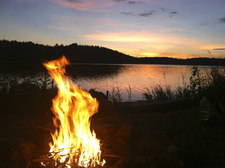 Sean emails:
I was wondering if any of your readers had any recommendations for some good, isolated camping spots. There are plenty of large, multi-unit camping spots where there are 100+ lots. I'm more interested in areas that have more privacy, while still offering some swimming / fishing.
Sometimes one of the joys about being out in the forest is not being around a bunch of other people. (Of course, we're all other people to other people.)
So, got a suggestion for Sean? Please share! And a sentence or two about why you're recommending a spot can be helpful.
Earlier: Good spots for camping with kids?
photo: Casey Normile

Hi there. Comments have been closed for this item. Still have something to say? Contact us.