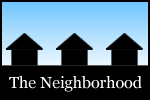 Among the topics in this most recent spin around the Capital Region's online neighborhood: the first year, self-criticism, support, the bus station, a new roof, the melting debt snowball, a secret bog, Bear Mountain, outdoor movies, Pitney Meadow, Mio Posto, the crusade against shameless vice, downtown Schenectady then, and the Big E.

Christine shared a beautiful account of her son's first year.
Amy on learning a lesson about self-criticism and being grateful.
Dominic talked a little bit more about working through depression and the response he's gotten from people after talking about it.
Rob criticized the state of the Albany bus station.
Jon made some significant progress on his backyard pizza oven with some help from a building supply store in Latham.
Crystal updated the progress she's making on her debt snowball.
Anna toured the exhibits at MASS MoCA.
Jackie sought out orchids in a secret bog.
Julie highlighted hiking at Bear Mountain in the Hudson Valley.
Silvia went to Bites, Camera, Action in downtown Albany.
Daniel recapped what sounds like quite the dinner at Pitney Meadow Community Farm.
Melinda tried Mio Posto on Lark Street.
At the Friends of Albany History, Al recalled the CRUSADE AGAINST SHAMELESS VICE.
Carl detailed a charming old postcard of downtown Schenectady.
And Chuck shared his Big E photo entries.