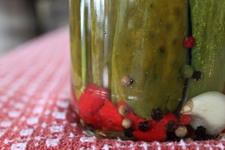 We're just about reaching the height of the summer growing season here, which means farmers' markets and backyard gardens will be overflowing with all sorts of produce. There will be tomatoes -- many, many tomatoes.
So, there are a few options:
1. Subsist on a diet made up totally of zucchini.
2. Can and preserve those tasty veggies.
Toward that second option, the local arms of the Cornell Cooperative Extension has a few upcoming classes...
Be sure to check each class page for info about pre-registering.
August 15: Fermentation and Quick Pickling
Cornell Cooperative Extension of Saratoga County (Ballston Spa) -- 5:30-8:30 pm
"Learn about different pickling processes including quick and brined pickles and techniques for making a crisp pickle. We'll also discuss lacto-fermentation. Participants will take home a jar of pickled vegetable." Class fee is $20.
August 16: Tomatoes 101
Cornell Cooperative Extension of Albany County (Voorheesville) -- 5:30-8:30 pm
"Can Tomatoes using a boiling water bath canner. Make a delicious salsa and take some home. Register by Friday, August 11th. Class fee $15 each, must be pre-register and pay in advance."
August 22: Fermented Foods for Health
Cornell Cooperative Extension of Albany County (Voorheesville) -- 6-7:30 pm
"We will discuss the nutritional benefits of fermented foods. Including yogurt, sauerkraut, kimchi and kombucha. A lesson on fermentation as a method of home food preservation will include making sauerkraut."
September 12-14: Master Food Preservation Workshop
HVCC -- 8:30 am-4:30 pm each day
"This three-day training program includes the scientific basis of home food preservation.You will get hands-on experience in boiling water bath and pressure canning, making jams and jellies, pickling and fermentation.There will be demonstrations in freezing and drying and discussion of other methods of preservation. Upon successful attendance of all 3 days of the workshop and the passing of the 60 question exam, you will have completed the first step toward becoming a Cornell Cooperative Extension Master Food Preserver.All class materials will be provided, including a nearly 300 page handbook. Lunch each day is also included." Class fee is $375.