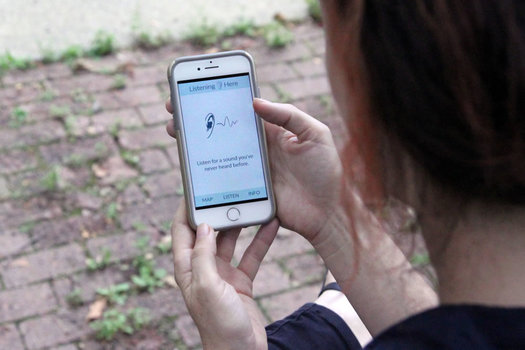 A new project focused on what Albany sounds like is launching September 1. Listening Here -- a web app -- is the creation of composer/sound artist Stephanie Loveless and composer/technologist Cristyn Magnus. Blurbage:
Created utilizing input from over 100 community members, "Listening Here" promotes attention to environmental sounds; utilizing written prompts tailored to the user's geo-location, people can experience the variety of unique and engaging sounds in the Capital City. As an example, Loveless and Magnus point to the difference in how crowds sound on a street corner compared to the space under The Egg at the Empire State Plaza. ...
The app has been in the works since 2016, but the seed was planted long before that as Loveless and Magnus met 10 years ago, in a class on Deep Listening, the philosophy and practice of Sonic Awareness developed by renowned American composer and Rensselaer Polytechnic Institute Professor Pauline Oliveros.
About the genesis of the project, Loveless says "We started our project with questions like what sounds matter to people in Albany? What does our city sound like? What happens when we take the time to listen?" The project incorporates input from over one hundred locals and hours of walking around Albany with a portable recorder. "Sound is around us all the time, and it affects us physiologically and psychologically, but we rarely take the time to listen. Our app encourages people to take off their headphones, step out of their cars, and really listen to their environment."
If you'd like to contribute to the project, there's an Albany sound memory survey online. It asks about sounds people hear in the city.
The launch party for the project is Friday, September 1 at the Albany Center Gallery at 6 pm. You'll be able to try out the app, take listening tours with artists, and participate in interviews about sounds in Albany.
photo: Rose Mitchell-Tenerowicz