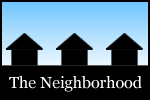 Among the topics in this most recent spin around the Capital Region's online neighborhood: the construction of the Corning Tower, 18th century paint, Snowy Mountain, Doodletown, sidewalk weeds, garden company, an unwelcome guest, Lyft, Silver Fox, local farms, Field Goods, steaks, seven sweets and sours.



98 Acres looked into why the original contractor for the construction of the Corning Tower was fired.
The Schuyler Mansion blog is looking at the 18th century paint that was used in the mansion.
Jen hiked to the Snowy Mountain fire tower.
Julie detailed a hike to Doodletown in the lower Hudson Valley.
Jackie celebrated sidewalk weeds.
The Bee Balm Gal examined some company in the garden.
Katie dealt with an unwelcome guest.
Silvia used Lyft for a night out that included the Alabama Shakes show at the Palace.
Chuck made a birdhouse with some help from Silver Fox Salvage.
Daniel highlighted an app aimed at the bridging the gap between local farms and local consumers.
Jona detailed the contents of her Field Goods delivery.
Steve asked people about how often restaurants cook steaks or burgers to the not-requested temp.
And Otis went in search of the seven sweets and seven sours.