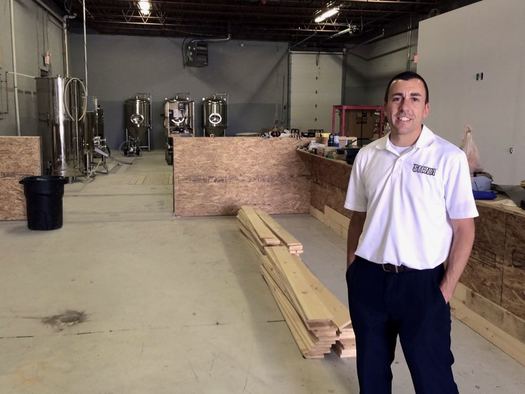 Albany's Warehouse District is in line to add another craft beverage producer this fall with the planned opening of Fort Orange Brewing.
Here's a quick overview of what's in the works and who's involved...
Who's involved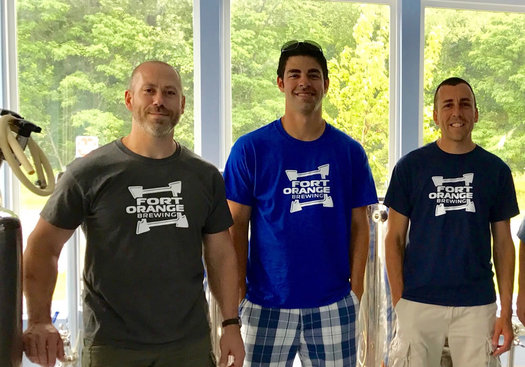 Left to righ: Craig Johnson, Fort Orange Brewing chief operations officer; John Westcott, chief executive officer; Jim Eaton, chief marketing officer. / photo courtesy of Fort Orange Brewing
The team behind Fort Orange Brewing is three people: Craig Johnson, John Westcott, and Jim Eaton.
They're all from Castleton and, as Eaton explained, met through their wives. They got talking about beer, started hanging out together and brewing together.
It was at a taste test of three IPAs they had brewed that the idea for Fort Orange emerged. As Eaton said, the first two IPA were good -- but the third was a "homerun."
"And all of sudden, you know what, this is good enough that we think the Albany market would be interested in it."
So they planned, got together the money, and started working on the brewery. Eaton figures the startup costs will end up being a little more than $200,000. (They're planning a short crowdfunding campaign in the near future to cover a few final costs and help draw attention ahead of the opening.)
And they still have their day jobs. Eaton works in admissions at Siena College, Westcott at a bank, and Johnson for an architectural firm.
The brewery space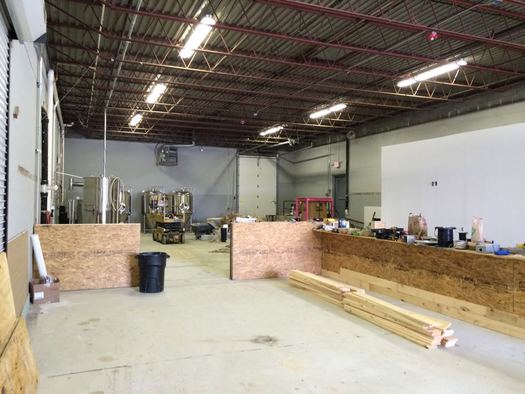 Fort Orange is building out the brewery in a light industrial space at 450 North Pearl Street. As is typical of the Warehouse District neighborhood, it's between a tile store and an industrial tool supply.
The space has a big garage door that opens up out onto Pearl. And looking through the bay, you can see the top of the Ferris wheel over at Huck Finn's Playland to the east.
The brewery equipment is set up in the back of the space, there will be a bar area in the mid section, and then seating and room for games or other activities in front.
"We're going to be primarily a tap room," Eaton said. "And a little bit different from what Albany has right now because the Pump Station and Druthers are both restaurants. And we're going to be more a traditional brewery."
He said they're focused on building a place where people will be comfortable hanging out with their families. (All three of them have kids.)
There are pics of the brewery space -- still under construction -- at the top in large format. Click or scroll all the way up.
The beer
Fort Orange's initial beer focus will be on ales -- specifically IPAs -- according to Eaton.
"We feel like we have some good ones we're excited to get out to the Albany market," he said. "But we'll do everything from a stout to a pilsner. I'm sure we'll have some seasonal offerings as well."
Is there room for another brewery?
There's been a huge upswing in the craft beer industry over the last decade. And locally it seems like there's a new brewery announced every other month. So we were curious if Eaton was concerned about the field getting crowded.
"We feel like there's definitely room for growth in the Albany area," he said. "If you look at some other cities the size of us, like a Portland, Maine, they've got way more craft breweries than we do here in Albany. So we're excited to join the Druthers and the Pump Stations in adding to that."
He also pointed to trends in people's preferences toward eating and drinking locally-produce products as another sign there's enough space to make a brewery work.
The Warehouse District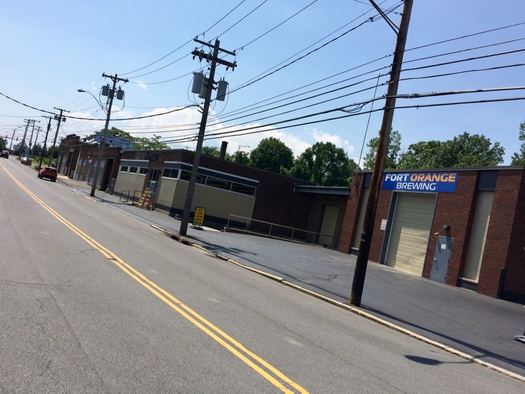 Fort Orange Brewing will be the fifth craft beverage producer to set up in the section of Albany just north of downtown, joining the Albany Pump Station, Albany Distilling Co., Nine Pin Cider, and Druthers Brewing.
Eaton said that scene -- along with other development in the neighborhood such as nearby residential conversions -- drew them to the neighborhood.
"It's exciting to be down here," he said.
Opening date
Fort Orange's brewing equipment arrived a few weeks back and is set up. There's still work to be done in building out the bar area and cold storage area.
Eaton said they're on track for a mid-October opening.
"This is probably the first time I'll say this, I'm excited for summer to end and fall to begin."
Find It
Fort Orange Brewing (planned)
450 N Pearl St
Albany, NY
Hi there. Comments have been closed for this item. Still have something to say? Contact us.