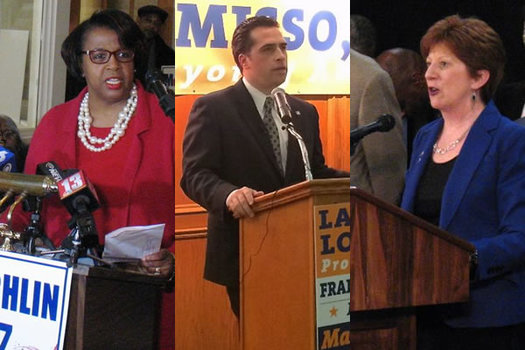 We're just about a month away from the Democratic primary in the Albany mayoral election -- it's September 12. And, because of the party's overwhelming voter enrollment in the city, the primary is the de facto election for mayor and many other city elected positions.
So it's worth looking over the new Siena poll out today that covers the mayoral election.
Here are a few bits from that, along with some info about upcoming debates...
Siena poll
The Spectrum News/Siena College poll out Monday was conducted August 2-7, and it asked 600 likely Democratic primary voters about who'd they vote for if the primary was the day they were called. The results:
+ Kathy Sheehan: 50 percent
+ Frank Commisso Jr.: 20 percent
+ Carolyn McLaughlin: 13 percent
More than 8 in 10 respondents said they were either absolutely or fairly certain they wouldn't change their minds between now and September 12.
Then-city treasurer Kathy Sheehan won the 2013 Democratic primary 66-29 over Corey Ellis after a Siena poll pegged her with a 68-20 lead the weekend before the primary election.
Favorability
The poll asked respondents about whether they had a favorable or unfavorable view of the candidates:
+ Sheehan: 68 percent favorable / 25 percent unfavorable
+ Commisso: 37 percent / 22 percent
+ McLaughlin: 45 percent / 18 percent
Sheehan's first term
"How would you rate the job that Kathy Sheehan has been doing as Mayor of Albany?"
+ Excellent: 16 percent
+ Good: 43 percent
+ Fair: 27 percent
+ Poor: 11 percent
+ Don't know/Refused: 3 percent
Respondents were also asked about whether the city's been on the right track or wrong track on a range of issues over the last four years. Downtown business development, infrastructure, city's financial well being, obtaining state funding, and crime were all "right track" from more than 50 percent of respondents.
But vacant buildings was 44 right/44 wrong, "addressing the needs of all of its neighborhoods fairly" was 40/47 (19/72 among African Americans), and opportunities for young people was 47/34.
Dissatisfaction
The poll also points to be people being dissatisfied on a few fronts:
+ 54 percent of respondents said local government's responsiveness to the needs of citizens was fair or poor (72 percent among African Americans).
+ 70 percent said the condition of "local roads, sidewalks and other public works" was fair or poor.
+ 62 percent of African Americans said the "job done by the police to keep citizens safe" was either fair or poor, compared to just 18 percent for whites.
+ And 49 percent of respondents the quality of the public schools was either fair or poor. (It should be noted the city government does not control the schools.)
The margin for error for the poll was +/- 4.2 percentage points.
Debates/candidate forums
August 16: Save the Pine Bush Albany Mayoral Candidates Night at Westminster Presbyterian Church (85 Chestnut Street)
"Hear their positions on important City of Albany issues. Most of the night will be devoted to the candidates answering questions from the audience." 6 pm dinner ($12), 7 pm presentation (free)
August 17: Albany Democratic Mayoral Primary Debate at The Linda
"WAMC Northeast Public Radio and WNYT News Channel 13 will host a live debate between the Democratic candidates for mayor of the city of Albany..." The event is already full, but it will be broadcast live on WAMC and WNYT-TV. 8 pm
August 29: Albany Democratic Mayoral Primary Debate at Hearst Media Center (TU)
Moderated by Casey Seiler. This event is also full, though presumably it will be live streamed online. 7 pm
September 7: Albany Mayoral Forum: Environmental Health and Protection at First Unitarian Universalist Society of Albany (405 Washington Ave)
Hosted by the League Of Women Voters of NYS and Environmental Advocates of New York. The Democratic and Green party candidates have been invited. 6 pm
Earlier
+ Carolyn McLaughlin is running for Albany mayor (with announcement speech video)
+ Frank Commisso Jr. is running for Albany mayor (with announcement speech video)
+ Albany mayor Kathy Sheehan is now officially running for re-election
Say Something!
We'd really like you to take part in the conversation here at All Over Albany. But we do have a few rules here. Don't worry, they're easy. The first: be kind. The second: treat everyone else with the same respect you'd like to see in return. Cool? Great, post away. Comments are moderated so it might take a little while for your comment to show up. Thanks for being patient.