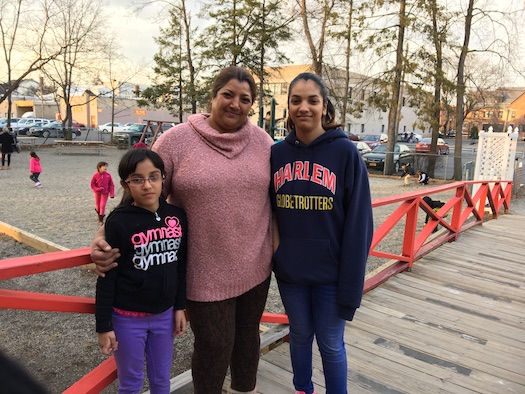 This week we're sharing the stories of a handful of refugees who have found new homes in the Capital Region.
Niebiha is from Iraq.
Her husband was a house painter there and she raised their children. A car crash changed her life, and forced her to find a new home.
She and her family have now lived in Albany for five years. Her husband is a driver at the Albany International Airport and Niebiha is a cook and a volunteer translator for other refugees at RISSE -- an org in the Pine Hills neighborhood center that assists refugees and immigrants in the Capital Region.
When we spoke with Niebha she was preparing to take her citizenship exam.
Why did you come here?
I have accident in Iraq -- me with my family -- in a car. This is a problem in Iraq. All good doctor, somebody kill them. So we don't have any doctor. So I go to Turkey because I have to go outside to find good doctor. I go to Turkey first and I go to UN and apply to come to America.
I am here with my family. My husband and I have four kids two boys and two girls.
Why did you want to come to the US?
My nephew is in the US. My husband's brother is in the United States. One is in Texas. One is in Ohio. Life in Iraq was very, very bad.
How is your life different here?
First time when I came I so, so scared. I don't want to go outside. I scared for my kids, not for myself.
But when I go out, I see the people is very, very nice. When I go out and I see the people --
if I know him or I don't know him -- he smile and say, "Good morning!" or "Good evening! How are you?" Everything is good.
I hear in my country and other country, "Don't go to America, is no good." But I say I go to America. Everything is good. Good doctor, computers, everything is good.
What were you hoping for?
I hope for everything. You know, because I want my kids to be something -- doctor, or engineer, or lawyer, or teacher, too. Everything I hope for my kids.
I left my family, my brother my sister. And I am sad all the time. But when I came here I see my neighbor and the neighbor is very, very good -- she is teacher.
Do the kids like it here?
I tease them and tell them that I want to go back to my country, and they say, "No. No, mommy, if you want to go your country, go home. We will stay here."
I miss my family too much. But I found another family here. When I come to church.
First time when I came here [to RISSE], I learn English [from] Miss Heather and Mr. Malcolm. They teach very, very well.
What surprised you when you came here?
I came March 7, and on March 21... this day when everybody wear the green things outside?
Saint Patrick's Day?
Yes. I think, oh, what happen to them? I think something happen here ... they wear green.
In my country we do that -- festivals -- but we don't wear the green or something. But where I live is a lot of students. I take my kids and go after them. I think where these people going and wear that green?
It's too surprise for me. I see the student with girls, with boys, it's very happy. I'm going to Central Avenue. And I'm very, very surprise! I say, "Oh, it's very beautiful! It's big big party!" It's big surprise for me. I am so, so happy for this day.
What do you worried about?
I'm worry because the president is different. He is good, but he is different than the last president. He is good too, but... I don't know.
I have to take the test [for citizenship]. Every day, 10 or 15 minute, when I have time, I study.
What do you want people to know about being a refugee?
I tell every, every people: America is very, very beautiful and the American people is very, very beautiful.
I don't say that for the news or anything. I say that in my heart. I saw a lot of people in Turkey and Iraq and north Iraq. It's different here. Everything is different here. I don't know her, but she look like my sister and she know me. It doesn't happen. I live two month in Turkey, just one neighbor ask me, "Are you OK?"
Here people ask. People are caring.
Hi there. Comments have been closed for this item. Still have something to say? Contact us.